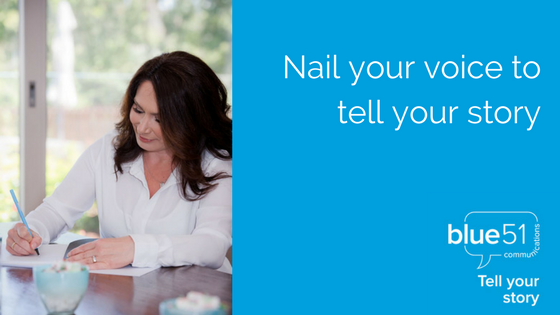 Have you ever met someone in real life who is a complete disconnect from their online or in writing persona? It's decidedly disconcerting, even more disconcerting than my undying love of adverbs, if that's possible. Sometimes people who are warm, funny, approachable, accessible and engaging in real life come across as overly formal, stuffy, forced or contrived in writing, and vice versa! Why? They haven't nailed their voice.
Here's the thing; nailing voice is not easy. There was an entire study unit dedicated solely to voice in my Master of Arts (Writing and Literature) in the context of narrative, non-fiction and fiction, because voice is one of the critical elements of readability. In terms of business writing, especially writing for small businesses, I don't think the importance of voice can be understated. Why? Storytelling is such a fabulous way to have people engage with your brand, and be more inclined to work with you.
We know that people buy from people and/or brands they like and so your voice (or your brand's voice) should evoke both your likability, and the essence of your personality. The person in the email or in the social media caption should be a super close representation of what comes out of your mouth and your body language when you meet someone face to face. I know I'm doing my job well, and that I've nailed a client's voice, when I get personal messages to them via their social platforms, sometimes a little too personal!
Here's some quick tips to improve the expression of your voice:
Write like you speak
Writing for business isn't the same as university assignments with correct citations, hypotheses and an absence of contractions. Not many people say 'do not' in a sentence- unless it's directed to the offspring about to push a sibling into the swimming pool. Record yourself if you need to, and take note of the nuances in your expression- that's your voice!
Read your work aloud
Before you hit publish on an email, a blog post or a social media caption quickly read it aloud. If it's clunky, or if you trip over words your voice is out.
Be a fit for your audience
Voice isn't just what you say, but it's also how you say it, and like all communications needs to be a fit for your brand, and for your audience. The language, expressions and turns of phrases that you'd use if your brand was in the surfing industry targeting adolescents is completely different to that of a marriage celebrant targeting baby-boomers celebrating late(r) in life love.
Channel your passion
Ooh, Google, this one might confuse you… Regardless of your industry and your target audience, nailing your voice is much, much easier when you have some passion and enthusiasm for the content you're sharing. If appropriate and not totes awks (as my ten year old says) record yourself talking to a friend about your content. For example, if the content is your website about page via website tell your friend what it is you stand for, what you want to do within your business, and who you want to do it for. It's pretty hard to subdue your enthusiasm when discussing your work passion with a friend, and you'll end up with a ton of content for you to tweak, restructure and fiddle with to get your voice right within the context of your content. In fact, almost all of my writing projects with clients starts with me asking a few pointed questions that opens the floodgates.
Tell me, is your written voice a reflection of the real you?
Grammar and spelling not your thing? Takes you forever to bang out a 300 word article? Need to update your flyer or website but you get tangled in words? Gosh, don't put yourself through that quagmire when there are people out there with Masters in this shiz- aka me.
This is a post in my Writing for Business blog series. Each month, I share insights, hints and tips from my social media and digital marketing bag of tricks. I'll show you how to rock online communications and how to use digital marketing to solve your business marketing problems.  If there's something specific you'd like to know, please shoot me an email or give me a buzz, and I'll do my best to help, or address it in an upcoming blog post or on my social media platforms.