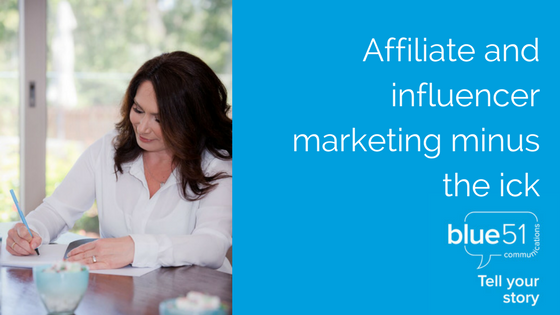 Influencer and affiliate marketing is massive, and it's application ranges from the dare I say it, authentically good, to the god-awful- still authentically, though maybe unintentionally. Yes, I'm looking at you, flogger of those insanely long sales email campaigns spruiking someone else's product, because without it you never would have had your first twelve figure week and you just genuinely, wholeheartedly believe it in it. And yes, today I'm wearing my 'I'm a churlish witch' t-shirt…
Here's five quick tips if you're thinking of adding the exchange of opinions for goods and or beautiful cash whilst keeping the integrity of your business communications intact:
1- Ensure the product or service you're endorsing is relevant to both your audience and to your business branding across all channels, including the disappearing ones! Instagram stories should be used with the same level of attention to branding as the rest of  your channels. #justsayin
2- Make the endorsement more than just a pitch- be entertaining, be educational, be informative or be inspiring. Go past the content that you've been provide with because there's nothin gmore insipid than reading a review or an endorsement that is basically a copy and paste of what's on the product website or catalogue.
3- Get the essential details right about your endorsement- what it is, the benefits it suggests, the benefits you experienced, the thoughts, thinkings and processes behind it.
4- Trust is incredibly important- so too is transparency and accountability, and this is conveyed by a clear opinion that may slightly deviate from that of the brand.
5- Come up with a rating system *that's unique to your brand to help your followers gauge your response. A rating system establishes a consistent benchmark, and makes it super easy for you to create user generated content on social media.
* Disclaimer- The Great Burger Caper is a client, and no, I wasn't paid for this blog post in burgers or cash, and opinions are wholly my own.
Tell me, what's your take on good (or bad) influencer and affiliate marketing?
This is a post in my Writing for Business blog series. Each month, I share insights, hints and tips from my social media and digital marketing bag of tricks. I'll show you how to rock online communications and how to use digital marketing to solve your business marketing problems.  If there's something specific you'd like to know, please shoot me an email or give me a buzz, and I'll do my best to help, or address it in an upcoming blog post or on my social media platforms.