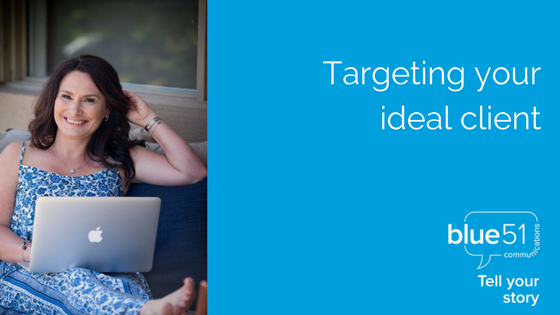 Having a clear understanding of your target audience or dream client is essential to beautifully effective communications. Disclaimer- I purposely avoid being a niche business because I love the diversity of my client base and subsequently the projects I work on. That said, I do have a very clear understanding about my audience in terms of my communications strategies and approaches and the voice I use for my business writing, and I have the same mentality when it comes to my client work.
Defining your client or audience can be right up there with a root canal. I've seen business advisors suggest creating an imaginary client avatar by completing a twenty page dossier that would put ASIO to shame. I think that's a bit over the top, but there are some essentials to nail down, and can depend on a number of variables. If your business has a model of being business to business, your messaging and communications will be slightly different to a business to consumer model. However, the basics you should have in mind are your dream clients' age range, their location, their motivations, their fears, hopes and dreams as they relate to your offering:
What is this person wanting to achieve?
What are this person's pain points and problem areas?
What are your services/products that can help this person achieve their desires?
This is, as I say, quite basic, but the detail comes when you do further defining via your key communications messages, and outline how you solve your target audience's pain points quite specifically. The more deeply you understand your dream client's problems, the more you will have in terms of content to communicate how your solutions can resolve their issues. Your messages will write themselves.*
Want an example? Imagine you are a personal trainer specialising in fat loss for women over 40 who are time poor.  The messages that are going to target this audience will be completely different to those of a personal trainer who works with clients in their twenties who want to enter body building competitions.
I'm supremely chuffed when a client tells me in beautiful specific language about their target audiences. If you'd like some help nailing down your messages to directly target your ideal client, you might be interested in my communications advising services– and I'd love to work with you!
Tell me, do you feel like you have a good handle on your target audience?
*Of course, for many people, messages don't write themselves, but are written by highly skilled Word Nerds. Like yours truly…
This is a post in my Communications Toolkit blog series  . Each month, I share insights, hints and tips from my communications and copywriting bag of tricks. I'll show you how to rock copywriting a range of products, tactics to communications glory and how to use communications and PR to solve your business marketing problems. If there's something specific you'd like to know, please shoot me an email or give me a buzz, and I'll do my best to help, or address it in an upcoming blog post or on my social media platforms.