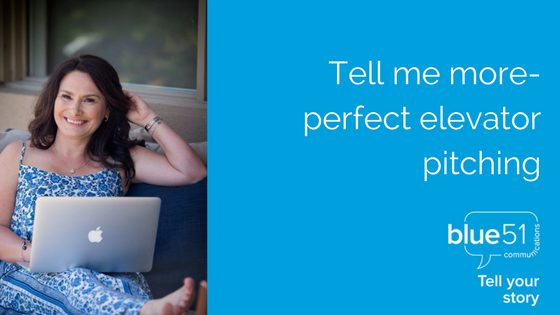 When you work for yourself, and/or when you are just starting out in business one of the best ways to grow your client list is to network, network and network some more. If you go to networking events (oh, the humanity) you get very familiar very quickly with the concept of the elevator pitch.
Ugh… the elevator pitch. It's an essential- you need to be able to quickly and effortlessly communicate the values and benefits of your work. OK, picture this, you're at a networking event/bar/kids' sporting commitment, and someone sidles up to you and says 'so, what do you do?'
Can you effectively say quickly and with a touch of pizazz what you stand for to gain someone's interest enough to say tell me more? The basic premise is that you have 30 seconds to convey your business without boring someone's pants off.
As a writer, it's a pretty cool project to find a way to pitch your business in a clear, concise and consistent manner, yet feel engaging and interesting. It's not easy to rattle off a line without it sounding forced or contrived. Whilst it helps if a brilliant copywriter and communications specialist (who, me?) injects a ton of warmth and personality into it, unless you're an amazing actor it can be hard to deliver your pitch convincingly and naturally.
I'm no actor, but here's what works for me when asked for my pitch:
'I help people grow their business with beautiful communications.'
Often, people ask me what I mean by communications, or what it is I actually do, which is when I say:
'I love what I do- I get to shine a light on people's work, so I help them create strategies, I come up with the messages that their clients will resonate with, and I give them a step by step way to make sure the right people are getting the right message. Easy peasy!' Or a variation thereof…
Basically, I think if you're passionate about what you do, and have enthusiasm for your work, share that passion and enthusiasm in the context of your results, and your pitch will sound fresh and enticing every time.
Tell me, do you have your elevator pitch ready to rock?
This is a post in my Communications Toolkit series. Each month, I share insights, hints and tips from my communications and copywriting bag of tricks. I'll show you how to rock copywriting a range of products, tactics to communications glory and how to use communications and PR to solve your business marketing problems. If there's something specific you'd like to know, please shoot me an email or give me a buzz, and I'll do my best to help, or address it in an upcoming blog post or on my social media platforms.