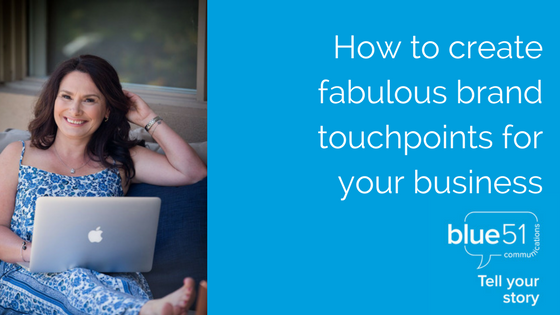 We have contact!
There are multiple ways a person comes into contact with your brand and your business, and a huge part of my communications advising work with my fabulous clients is ensuring their business has consistent, accurate and compelling communications across almost all touchpoints.
Look, there's a gazillion ways you can market your business, but rather than try everything to see what sticks, pick a number of essential tactics or strategies that are aligned to touchpoints, ie that make sense to the way typically somebody comes across your business, and do them well. I usually advice on five touchpoints to focus on, and the five will complement each other and are manageable in the day to day of running a business.
Your five touchpoints could be:
Your website and SEO
Your social media- of course, pick the platform that's best aligned to your business goals.*
Your mailing list
Your branding- particularly important for businesses with a physical location
Your event schedule including external events such as networking and conferences.
It's believed that someone will need to see a message around five to ten times before they make a purchasing decision, so the more contact they have with your business across different channels, the better.
Now, here's the kicker:
Ensure that there's consistency in communications across all of your touchpoints. What does this mean exactly? The voice that's on your website should be the voice that you use in your social media captions, and when someone meets you at a networking event there's no disconnect between your online persona and the real life experience of speaking with you. The pitch you deliver verbally about your work and your services should echo the information that you've included in your website copy.
Tell me, do you have consistency in communications across your touchpoints?
*Here's a little freeby checklist to help you be on the right track in terms of choosing a platform.
This is a post in my Communications Toolkit series. Each month, I share insights, hints and tips from my communications and copywriting bag of tricks. I'll show you how to rock copywriting a range of products, tactics to communications glory and how to use communications and PR to solve your business marketing problems. If there's something specific you'd like to know, please shoot me an email or give me a buzz, and I'll do my best to help, or address it in an upcoming blog post or on my social media platforms.