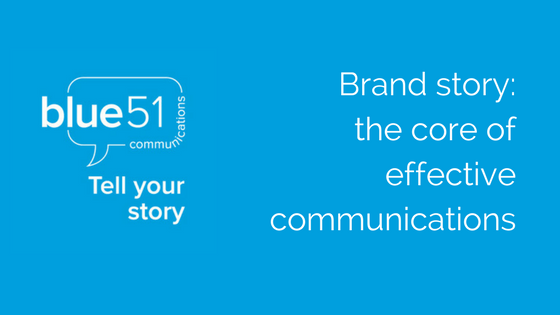 As either a long term Blue51 aficionado or a new visitor arriving via Google, social media or because your friend said 'you have to check out Holly' *waves hello* you may not know that 'tell your story' is my tagline. Yep, that's it.  More than a tagline, it's the core of my brand story, the essence of what I do through my communications, writing for business and social media services. It guides everything I do in terms of the services I offer and my communications and marketing.
A good brand story will share how and why your business was established, your motivations, drivers, criteria for success- both yours and the people you serve. Basically, they provide an insight into your work and the people involved, both as providers and recipients, and the relationship between the two, in the context of the benefits your work provides others.
I love writing brand stories for clients, and I think they're incredibly important to use in your communications toolkit. They enhance and facilitate connection and engagement which are essential to building relationships. It's an articulation of your values, the core of your work, and so it's not a set and forget task to tick off. You'll use iterations of your brand story across all of your business communications, from your website (not just your about page!), your social media posts, your marketing and sales funnels, your client work process, in fact your entire client experience journey should emulate your brand story.
OK, so this sounds quite wishy-washy, which is soooo not me. I'm all about the practical and action based, so here's some examples and tips for sharing your brand story:
Write out your brand story (the who, the what, the why) in the first person wherever possible. First person point of view resonates and is engaging.
Turn this into a blog post, or copy for your about page after giving it a decent edit.
Write a set of at least five key messages that fall out of your brand story and align these to the different services/arms of your business and what you do. These will become prompts for your social media strategy, or your captions, to be more specific.
Include elements of your brand story in your client touchpoints including proposal documents, invoices, website contact page and emails.
Weave your brand story into your bio and elevator pitch. The why is almost always more interesting than the what, and together they're a pretty compelling combo.
Tell me, do you have a clear and well articulated brand story for your business?
This is a post in my Communications Toolkit series. Each month, I share insights, hints and tips from my communications and copywriting bag of tricks. I'll show you how to rock copywriting a range of products, tactics to communications glory and how to use communications and PR to solve your business marketing problems. If there's something specific you'd like to know, please shoot me an email or give me a buzz, and I'll do my best to help, or address it in an upcoming blog post or on my social media platforms.