Ugh, surely not another small biz blog post about writing a target audience avatar? Hells, no! As they say in the classics, and on my Facebook feed about a gazillion times a day, 'aint nobody got time for that!'
Look, I can't deny that I do a happy dance when a new writing client has an extensive understanding of the niche they work in, but a 10 page dossier defining their audience's favourite muppet character? Yeah, nah. That level of detail really isn't necessary in effective communications. All you need, really, is just the basics and the facts, ma'am; just the facts. 
Psst- want my one page comms quicky? Here 'tis!
I often have clients who are highly aware that their communications lacks focus, and yes, that's a problem because it means if a mark hasn't been defined, then how do you hit it? Sometimes, people in service-based businesses (who I primarily work with) seem to fall into business with a client falling in their lap without a lot of marketing work before hand, and then the power of word of mouth and referrals keeps their business ticking along nicely. However, most of us want more from our businesses than 'nicely', and that's where powerful, strategic communications come in. But first, we need a defined audience to communicate to. If you're not talking to a specific someone, then who the hell are you talking to?
The more clear you are about your audience, the more targeted (and clear) your messages will be.
Some clients are concerned that if they niche too tightly, that if they write to that niche too deliberately, they'll exclude potential clients. For example, I work with a fabulous executive coach who has the main audience of women in middle to senior management who want to take their career to new heights. That said, she does work with men with the same aspirations, but she doesn't specifically market to men. My experience, and I've been doing this shiz for quite some time now (#ohsoold) is that the message will reach clients outside your niche almost by default whilst hitting your intended recipient fair square.
I'm no life coach, but I do know the feeling that comes with a lack of alignment between work and purpose, and it ain't fun. Many of us in small business start off accepting clients because we need to pay the bills and grow our business. Are they the right client though? Does the work fill you with dread, or with joy? Defining your target audience is a fantastic way to redesign your business and get you to a position where you work with people and businesses that fill, not deplete your cup. 
The best (and quickest!) way to define your audience is to look at who you are already currently working with on your client list. What do these clients have in common? Where did they come from? Which/whom do you prefer working with? The clients you love will become your avatar of your target audience. 
Another approach is to look at your services- specifically the nitty-gritty about the benefits they bring to your clients. Now, who is in most need of that benefit? If you are a professional organiser, for example, and your time management brings a sense of calm and control to busy professional working mothers of school aged children, then boom- you've just found your audience. 
Of course, demographics are important- if your services come with a big ticket price tag, then there's not a lot of point wasting communications efforts targeting budget shoppers, to put it rather crudely. My point is not to lose hours of your working day creating a dossier of an imaginary client. More important is a grasp of their motivations as this will dictate your messaging, while an understanding of who they are- ie who you are talking to- will inform your voice. 
Tell me, do you have a clear understanding of who you're talking too? If you'd like a Word Nerd extraordinaire to bounce around your messaging against your audience, please get in touch. I'd love to work with you!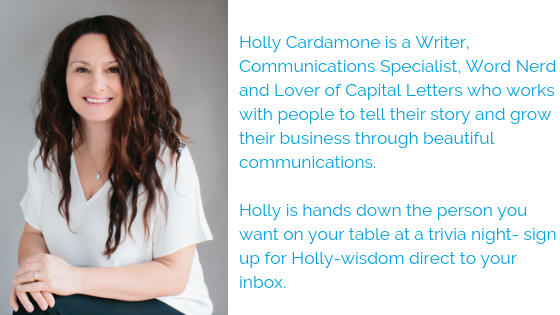 This is a post in my Communications Toolkit series. Each month, I share insights, hints and tips from my communications bag of tricks. I'll show you how to rock communications, tactics to communications glory and how to use communications and PR to solve your business marketing problems. If there's something specific you'd like to know, please shoot me an email or give me a buzz, and I'll do my best to help, or address it in an upcoming blog post or on my social media platforms.