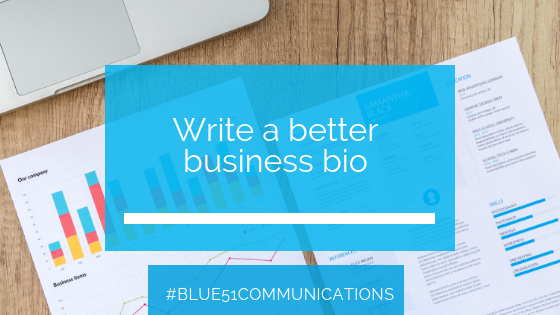 So, it's no secret that the power of words is at the heart of what I do as a communications specialist. I love writing in all guises, and in terms of writing for business, about pages have a special place in my cold, dark Word Nerd heart. About pages are an opportunity to turn someone's CV into a story. I take their skills, experience and expertise and craft them into a narrative. A bio is the perfect extension (or is it contraction? 🤔) of this, and given the multitude of places it's used, it's the perfect place to slap a ton of personality into what can often be a bland piece of business writing. 
Like any other element of your business writing, your bio is a communications tactic that enforces and enhances your brand. It's a way for people to fall in love with you at best, or relate to you at least. It's a quick and easy way to establish trust and it can make the much bigger story of your CV more accessible. It frames a conversation, sets a tone, and when well-written, entices and compels.
A bio should tell a story.
Specifically:
Who you are
How you can help me
Your backstory

 

Your professional journey
Why I should trust you
What we have in common.

 
I find that most people need a few different variations of their bio to meet different purposes. Case in point- your Facebook bio will be different to your LinkedIn profile summary. There should be tree specific bios at a minimum for your communications toolkit:
1- basic first person, elevator-pitch 
2- first or third person paragraph (5-10 lines) for guest blog posts, speaking notes or other introductions
3- long form bio with extra detail and a call to action. 
All three need the principles of story to create a connection. Some beautifully-applied writerly glitter will turn your bio into a story without adding buzzwords (bleugh) and with clarity and concision. The voice (first or third person) will depend on the audience and the purpose of the bio so is interchangeable. 
Here's some of my favourite bios:
I love how all of these share a blend of personal and business information to paint a picture of the person in 3d. The writer of these bios is pretty damn awesome, even if I do say so myself. 
Tell me, does your bio tell a story?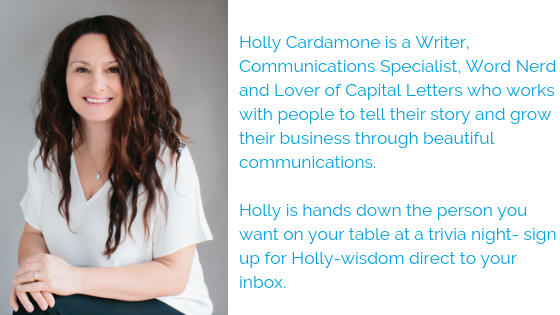 This is a post in my Writing for Business blog series. Each month, I share insights, hints and tips from my writing bag of tricks gained after almost twenty years of experience (oh Gawd) and my two Masters. I'll show you how to rock writing a range of products, tactics to online communications glory and how to use communications and PR to solve your business marketing problems.  If there's something specific you'd like to know, please shoot me an email or give me a buzz, and I'll do my best to help, or address it in an upcoming blog post or on my social media platforms.