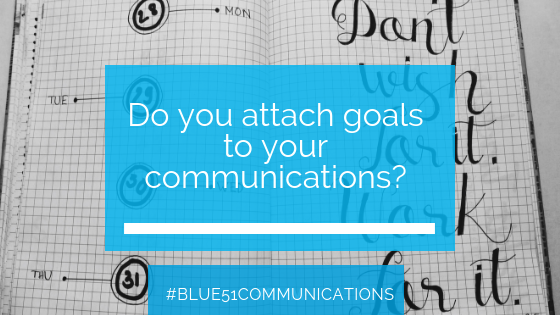 Communications are essential to a successful, sustainable business. Actually, scrap that- good communications are what's required.
How do you know if they're good?
Sometimes, when I'm working with a new communications client, they're quite unclear about their communications performance. Often, they know what worked, whilst they think other activities or tactics were a waste of time and effort. However, without some hard, unambiguous data against a baseline, it's really hard to make a call on which activities should be repeated and which should be flung into the bin. Unfortunately, 'gut feel' doesn't cut it. Seeing changes and improvements, backed by stats and rsults, makes it really easy to prove (or disprove) ROI and value on your activities. 
Communications, at the core, is about getting your business message in front of those who need to hear it. But for what purpose? Well, my pretty, that's where communications goals come in!
Communications goals are intrinsically linked to your broader business goals and your overarching vision. Any and every communications goal needs to have that bigger picture in mind, and the tactics to meet that goal must be moving the business towards their vision. 
Communications goals provide a clear focus. Intentions are unambiguous and keep you aligned to a broader business vision. They guide how you set priorities and resources and the act of creating communications goals demand focus- what do you actually want to happen from each communications activity? Why?
Let's say your business goals for the next twelve months are to double your sales of your favourite service, or to fill out your 1:1 services, or to consistently sell out events to cement your positioning as a thought leader, or to increase your overall sales by 10% to make you the market leader in your industry. 
Your communications goals are going to be focussed on tactics that help you achieve these broader goals.
For example, increased social media followers on a specific platform (communications goal) will build awareness (business goal). An improved client experience (communications goal) will increase your client retention rate (business goal). A website update with an extensive FAQ page (communications goal) will reduce admin time (business goal). An article published in a women's health magazine (communications goal) will increase access and exposure to your target audience of fit women (business goal) 
Want some more examples?
Increase your brand awareness (so your audience knows who you are and wants a coveted 1:1 session with you), grow your mailing list (so your audience wants to come to one of your sold out events), build your personal profile by appearing in a national daily (to position yourself as the go-to expert in your field). 
Communications goals are a way to confirm and clarify the response you want from your communications and how you want your brand and business reflected. There's an art and a science to writing goals, and everyone (and their grandmother) is familiar with the SMART process, but just to recap:
Write your goals in a way that is:
S-specific
M- measurable
A- attainable
R- relevant
T- time-based
I recently came across another acronym which is a bit more fun and passion-driven.
HARD goals:
H- heartfelt (tell me what you want, what you really, really want)
A- animated (can you clearly visualise what achieving this goal looks like)
R- required (includes steps that must be achieved to keep momentum and progression) 
D- difficult (complex enough to keep you sweating and engaged, rather than bored)
Regardless of whether your communications goals are SMART or HARD, bottom line- write them down and measure them!
Tell me, have you set beautifully clear goals for your business communications? If you'd like some specialist support with this, please get in touch. I'd love to work with you!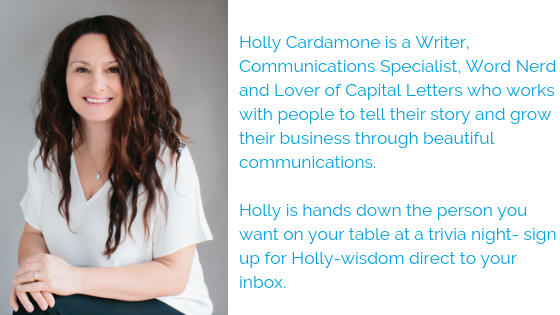 This is a post in my Communications Toolkit series. Each month, I share insights, hints and tips from my communications bag of tricks. I'll show you how to rock communications, tactics to communications glory and how to use communications and PR to solve your business marketing problems. If there's something specific you'd like to know, please shoot me an email or give me a buzz, and I'll do my best to help, or address it in an upcoming blog post or on my social media platforms.