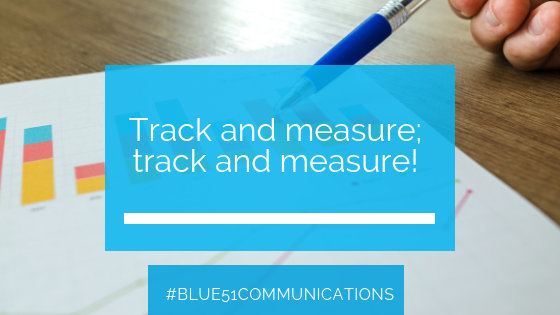 Track and measure; measure and track. It's something I bang on about All. The. Time. Seriously, I bore myself, but tracking and measurement is so essential to my communications that I feel more than slightly jittery when clients tell me that they've never looked at their Google Analytics. *shudders involuntarily then vomits into a handbag, not necessarily her own.*
I get it; the measuring is so much less fun than the doing and the getting it done.
By the time the measurement stage in a project comes around, we're already over it and onto the next thing. Sometimes it involves spreadsheets. *she vomits again*  Tactic measurement and evaluation was a huge focus in one of my early communications roles, when I used to totter around in skyscraper heels and my knees didn't make a peep. My communications director at the time used to say (ie basically yell) in every campaign planning meeting 'if you can't measure it, it doesn't exist.' 
It's true; if you're not tracking a response then how do you know if something is worth repeating, if it's working against your objective? How do you know if what you're putting out in the world is hitting it's mark? Is blogging really worth your while? You've done the creative, Word Nerd part; now it's time for your inner Numbers Nerd to shine. Release the numbers! Track and measure, my pretty, and make the process easy by jumping into your Google Analytics dashboard. 
I'm creative. I love writing, and numbers give me the heebie-geebies. Weirdly, though, I love tracking. It confirms my speculated understandings about audiences and their behaviour. I use it to measure the impact of social media or email campaigns, to keep on top of search behaviour and to align my (or client's) target audience information against online communications. Google Analytics lets me drill right down to the detail of visitors- right down to their town or their city. 
However, the information is overwhelming, particularly for a Word Nerd like me who has a reverse-Pavlovian response to charts and spreadsheets.
There are so many tracking options but my advice is to pick a few strategic statistics that relate directly to your business goals and measure how your website is contributing (or not) to this:
Number of visitors
How they found you which relates in turn your marketing and communications efforts
Where they are located
The most popular pages of your website.
One of the things I most love about online communications is it's fluidity. It's not like spending $12k for a billboard campaign and crossing your fingers your ideal client happens to be driving along that highway at the right time. Every piece of content can be manipulated, tweaked, edited, added to and improved upon. Look at your results and then adjust your activities. Easy!
Tell me, do you track and measure?
If your ROI isn't fantastic, it may be time for a communications over coffee with me- some simple tweaks and adjustments to your online communications could make all the difference. Give me a buzz!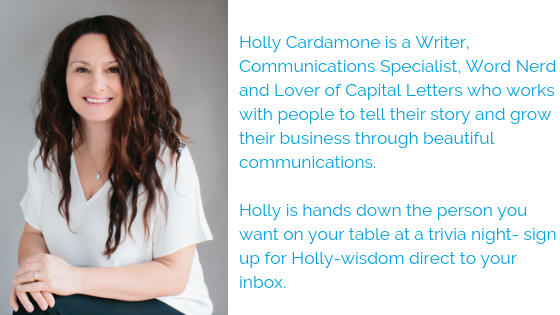 This is a post in my Communications Toolkit series. Each month, I share insights, hints and tips from my communications bag of tricks. I'll show you how to rock communications, tactics to communications glory and how to use communications and PR to solve your business marketing problems. If there's something specific you'd like to know, please shoot me an email or give me a buzz, and I'll do my best to help, or address it in an upcoming blog post or on my social media platforms.