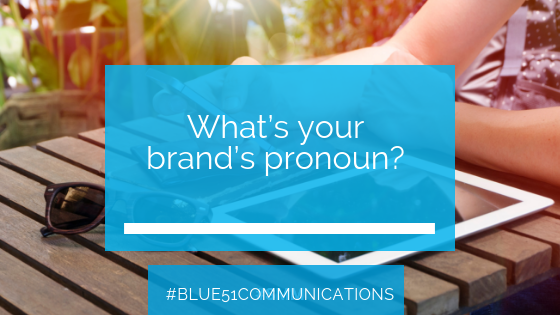 In communications, brand voice is critical to connection. Voice is a reflection of brand personality and persona and influences the way a brand connects with an audience and vice versa. When working with a client on their communications, their voice is one of the first things I audit, and as a writer, pronouns are essential to voice.
I know not everyone is grammar-obsessed like moi (but oh, what a magical world that would be), so here's a quick refresh on a pronoun, straight from the workbook from my Writer's Toolkit Workshop:
Pronoun: Words that stand in for nouns.
In terms of business communications and a brand pronoun, it relates to whether a brand (company x) calls itself 'we' or 'I' within in a sentence. It's a question that comes up all the time in my communications advising sessions with people who are sole-traders and there's really no absolute right answer. 
My experience is a lot of businesses of one use the 'we' pronoun to be seen bigger than they actual are and because they feel it adds an element of professionalism to their message. Personally, when I rebranded and launched Blue51 Communications I used a 'we' pronoun for that reason, as I'd worked as in-house communications director and had worked with agencies who were firmly in the 'we' category. I felt like it was a necessity. With hindsight, I know (firsthand!) that the 'we's' were very much 'I's'. 
Very few of us, despite what our ABN classification says, work in isolation. I'm a sole trader, but I work closely with other sole traders and companies (ie web developers, graphic designers, bookkeepers and accountants, virtual assistants). I'm a one woman show, but strictly speaking, I don't run my show completely solo. Even so, it felt incredibly ingenuine and phoney to refer to my team, and more than a little pretentious. 
I stuck with the 'we' pronoun for almost a year, but I discovered fairly quickly that the 'we' pronoun wasn't working in my favour. Firstly, everything I wrote (everything) felt arduous, difficult and inauthentic- largely because it felt misrepresentative and inauthentic. Secondly, my clients were coming largely via word of mouth and recommendation, and people wanted to work with me, Holly Cardamone, and not the business. The 'we' had to go. As soon as I shifted my message from 'we' to 'I', everything shifted. My writing flowed, my messaging was clear and I felt a much less tenuous connection to my audience. 
Psstt- does using 'I' feel a little too close to self-promotion for you? I have a sweet 'lil freebie to help with that ick. You'll find it at the end of this post.
Really, at the core, audience should define the pronoun. Have a quick think about your audience, the people you want to work with. Do they need or want to identify personally with the person behind the brand? Do their needs (and your value proposition that meets those needs) require a personal, authentic connection and relatablity? Do they need to know, like and trust a brand as a person? Is your professional relationship with them based on personal connection? 
I'm not big on acronyms other than WFT, which I tend to use on the daily, but it's worth thinking about your connection with your clients. Is it B2C? B2B? Even in the category of B2B, it can be further tightened to P2P- person to person. When you're one person speaking to another person, the pronoun can either make or break that connection. Using 'we' implies a group of people from your business is talking at that person. Using 'I' implies you personally speaking directly to and with a person. Back to my experience- personal connection was key to my ideal audience relating to me and my work and taking that next step to investing in their communications with me as their Word Nerd. It also was (and is) a way to screen potential clients to unearth the good eggs I really want to work with and exclude those that I wouldn't be a good fit for. 
If your business is focussed on the personal, and you very much want to be a face behind your brand, but you have a team, you're not completely restricted to the 'I' pronoun. Honesty and authenticity is important to brand reputation and it's obvious when someone isn't being forthcoming with how much they actually do in their business. Do you think Oprah does everything in her empire herself? Use messages such as 'my team and I', or 'I love what my team has created for…' or 'my team has been …' This is still first person but indicates you're not a solo operation/superhuman. 
Your broader vision for your business also influences your pronoun. If you have plans to scale and expand and potentially sell your business then the 'we' pronoun is completely appropriate. I have a number of clients who are currently solo but have plans to expand, and so we've created a strong brand persona to enhance their personal feel and sense of connection and relatability in their messaging. We use (see?) language such as 'all of us at Company x are excited for' , or 'the team caught up recently to talk about our …' and the brand voice is fun and friendly to bring the audience along for the ride. 
If you've been battling along in the world of 'we' but want to move across to 'I', a good way forward to to do a really strong introduction post on your social media platforms, or perhaps a blog post, saying this is who I am. That draws a line in your communications sands, and frees you to move forward in the world of 'I'. 
Tell me, what's your business pronoun*? If your pronoun doesn't sit right, it may be time for a communications over coffee with me to bounce around some ways to tweak your messaging. Give me a buzz!
*I have a confession- I really wanted to title this blog post 'Are you down with your brand's pronoun?' but do my tweens really need another opportunity to eye roll at their dear old mum?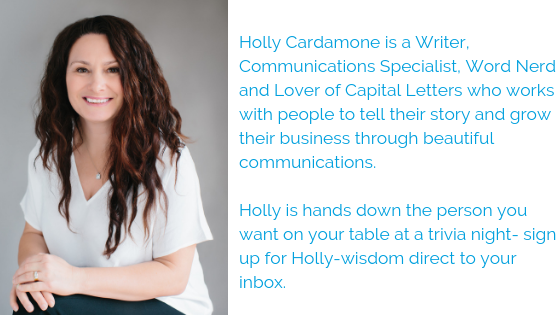 This is a post in my Communications Toolkit series. Each month, I share insights, hints and tips from my communications bag of tricks. I'll show you how to rock communications, tactics to communications glory and how to use communications and PR to solve your business marketing problems. If there's something specific you'd like to know, please shoot me an email or give me a buzz, and I'll do my best to help, or address it in an upcoming blog post or on my social media platforms.