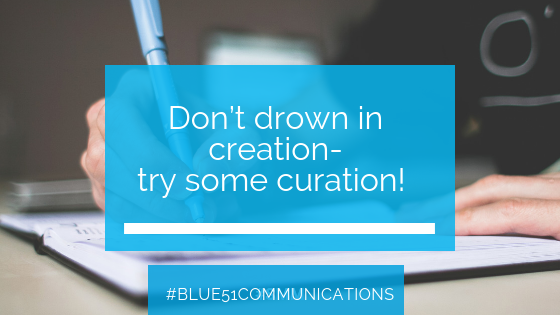 Content marketing is a massive time suck. There, I said it. Blogging, social media captions and email marketing aren't a quick and easy process- well, not if they're quality. Writing is really the quick part- there's researching, publishing, sharing, repurposing, lions, tigers, bears, oh my!
What if there was a way you could have a robust, comprehensive, kick-arse content strategy that doesn't involve you writing each and every part of it? The answer, my pretty, is content curation, and it's a little somethin' somethin' that always brings a sparkle to the eye of my communications clients. 
Here's the thing- not everything you share in your content marketing strategy has to be yours. Nor should it be. Now, isn't that liberating?
Curation is a concept that Interior Designers use All. The. Time to create a cohesive, well-resolved interior (taken straight from my client My Beautiful Abode's beautifully written website). A curated space is one where not everything and anything is out on display. Rather, a thoughtful, considered and careful approach is applied. Content curation follows the same philosophy. 
Curating content gives your audience access to a variety of voices- not just yours. Sharing content from other sources shows a level of generosity and that you value difference. It's a wholistic approach to your content strategy and from another perspective is one that relieves hours upon hours from your workload. It's a value-add for your audience that is relatively simple to implement from your end. 
Curating content can position you as an expert in your space, as it gives you the opportunity to add your own perspective and position and viewpoint to what you're sharing in your caption. Pose questions, challenge assumptions and have a conversation with your audience in that context, particularly on LinkedIn which has the core purpose of being a forum for professional exchange rather than general chit-chat.
Like all communications, the key to getting the most milage out of your content curation strategy is a keen and clear understanding of your target audience. The content you share needs to be aligned to both your business purpose and message and to your audience's needs and interests. If you've worked with me on a content strategy, you'll know I favour content pillars as a way to structure your message. So too with content curation and so create some categories that your audience will appreciate and resonate with, and that are a natural fit for your business and your branding. For example, my audience is primarily people with their own service-based business. The topics of interest to them (and me) inform the basis of my content curation pillars, so I share a lot of content about productivity, good (business) reads, writing tips and tricks and communications. 
After defining your topics, find the sources of content that follow that topic. I find my best content from three main sources; Flipboard, Medium and my clients and colleagues who are experts in their respective fields. I also share content from blogs of businesses and brands that I admire. I only share content that I myself would consume, or that I'm almost completely convinced would be of interest to my audience. 
Tools for sharing curated content are plentiful but I like to keep things super simple. I have two curated content spaces per week my content schedule in both Facebook and in LinkedIn, with rotating 4 topics. In my notes app I have separate pages for each topic, and as I find content (via the sources above), I add the URL and some notes to aid my caption writing in the relevant notes page. Then on my social media scheduling day it's a simple copy and paste. Boom!
Curated content is helpful marketing at its very best, with your audience's core needs (inspirational, informational, educational, motivational) at the heart of your strategy. But one last comment- do it properly! Attribute, don't steal, and link back directly to the original source.  
Tell me, does content curation factor in your strategy?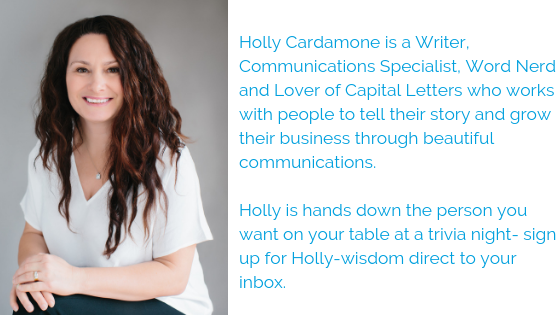 This is a post in my Writing for Business blog series. Each month, I share insights, hints and tips from my writing bag of tricks gained after almost twenty years of experience (oh Gawd) and my two Masters. I'll show you how to rock writing a range of projects to solve your business writing ills. p  If there's something specific you'd like to know, please shoot me an email or give me a buzz, and I'll do my best to help, or address it in an upcoming blog post or on my social media platforms.