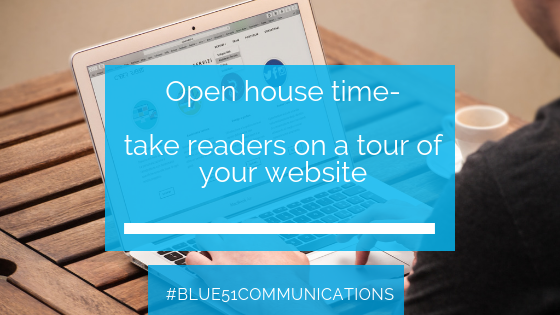 A website is a pretty elaborate tool in your communications arsenal, not to mention a crap-ton of work to put together. So much blood, sweat and tears go into each step of a website build, from the copywriting, the design and structure, the coding and the visuals and branding, to finding the perfect photo for your about page. It makes sense that after all that work you give people every opportunity to poke their nose into every nook and cranny. 
What happens when you build an incredible user experience with on point navigation, yet your Google Analytics tell you that people aren't moving past your home page?  Sometimes, people just like a bit of a guided tour, and today I'm giving you ways to virtually hold someone's hand, and gently, yet emphatically yank them around your business' online home.
Here's some tips to guide visitors around all the pages you so lovingly built on your website.
Facebook
Facebook has lots of opportunities to send people to specific pages on your website.  What's your social media strategy? Is it to regularly showcase your people, your services or products, or to provide answers to those questions about your business that you're asked time and time again? Providing direct links to specific pages with good captioning is a great way to move people around your website pages. Another opportunity is to take advantage of Facebook's About and Services sections to provide links to pages you wish to drive traffic to. 
Instagram
Instagram is more limited than Facebook in that the one linkable space is within the bio- so make it work for you and for your business. I love using Linktr.ee for this purpose. Your link is the Call To Action of your Instagram account, so it's a great opportunity to direct people to the places you'd like them to land, arranged based on your business goals. Is it to build your list? Put your opt in landing page on top. Is it to share a recent blog post? Put your blog page as number one. You get the drift.
New Enquiries
I have quite an elaborate proposal document which I provide to people requesting quotes on my services. I include the all-important dollars and cents, but I also give people an overview of me, and of Blue51 communications. Depending on the services they're requesting quotes on I often provide links to case study posts of similar projects, and I include links to my testimonials page.
Onboarding new clients
Once a client accepts my proposal and has paid a deposit to get cracking, I have a welcome kit that I provide that outlines expectations for working together and confirms deliverables, but again I use as an opportunity to take people for a tour of my website. 
Landing pages and mailing list welcome confirmations
People have expressed an interest in your work by signing up to your mailing list, so the logical next step is to for them to be guided around your website. Include the pages that are most relevant, such as blog posts connected to the opt-in they've signed up for, information about working with you or the pages that share the content that your happy clients have provided about you and how ah-ma-zing you are.
Calls to action
Every single page of your website, including each blog post is an opportunity to direct people around your website.
Tell me, when you visit a website are you a bouncer or a lingerer?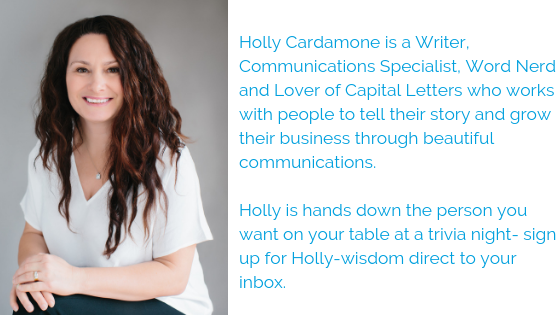 This is a post in my Communications Toolkit blog series  . Each month, I share insights, hints and tips from my social media and digital marketing bag of tricks. I'll show you how to rock online communications and how to use digital marketing to solve your business marketing problems. If there's something specific you'd like to know, please shoot me an email or give me a buzz, and I'll do my best to help, or address it in an upcoming blog post or on my social media platforms.