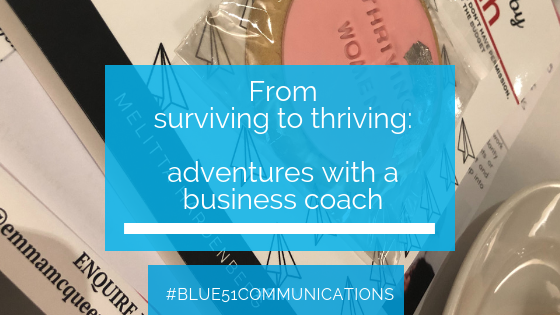 You've heard of the relationship 7 year itch? It's a psychological concept of feeling restless and bored after a period of time in a relationship. A slump, if you will. Whilst my marriage is stronger than ever, possibly a little too much so, according to the faux gagging* sounds by my cherubs at any and every PDA between my husband and myself, I've felt that discontent and dissatisfaction professionally. 
There are always peaks and troughs, slumps and highlights in life, and business is no exception.
However, a rut is not a fun place to be in. At the five year mark of working exclusively in my business I was feeling flat and stale. Don't get me wrong; I loved the work I was doing and the clients I was working with, but I felt a distinct lack of spark. I knew I needed a little somethin' somethin' to bring back that lovin' feeling, but what? More importantly, who?
Disclaimer time- I've had a fairly decent sized scepticism about business coaches for a long, long time.
Whilst I'd never be so rude to as openly eye-roll someone at a networking event, I believed (and still believe, whilst we're being completely honest) that the real deal are few and far between. I know from my own experiences of having my IP ripped off by self-proclaimed content experts that there are a lot of crooks and wannabes out there. 
At this same time, I was moving in similar circles, online and in real life to a business coach (perish the thought), Emma McQueen. Emma and I happened to meet up for a coffee and hello- real deal! She joyfully and proudly detailed her qualifications, accreditations and endorsements with no hard sell or expectation of working together and I think we were both pretty happy to have a no BS woman in each others' corner.
A couple of months passed by, and Emma engaged me for a Tell my Story Content Blast session. She brought along her trusty side-kick, Jess Randall, and for three hours I dug deep into the Emma story in the context of her content. As I was listening to these two powerhouse women bounce their thoughts off each other I was struck by not only how clever and insightful they were, but how they were just genuine good people. That afternoon, I booked a Clarity to Chaos session with Emma to give my business an injection of clarity and a basic slap across the chops. The session? Transformative. The sense of lightness and relief that came with clarity was almost tangible, and completely reinvigorated and refreshed my business, and by default, my broader life. 
That was just one coaching session. A month later, I signed up for Emma's year long Thriving Women program and hand on heart? It's been one of the best decisions I've ever made for my business and for my life in general. 
Imagine this:
A group of like minded women from a mix of sectors, backgrounds and industries, self-employed in businesses of 1 or from massive organisations, all with each others' best interests at heart.

 

Personal and professional development on crack.
Support, reciprocity and topics of conversation that alternate between life changing and so fucking funny there's snort-laughs aplenty.

 

Knowing that with these formidable women behind you there's absolutely nothing, nothing, you can't achieve in this one precious life.
Now, Emma doesn't know I'm writing this. In fact, she's overseas at the moment and has been expressly forbidden to check in, so this is completely unendorsed, unsponsored and unsolicited. I'm just sharing my experience for no other reason than to share. I get asked all the time about my experience working with a business coach- often by people who've been shafted by those dodgy AF ones- and honestly? If my business was down to it's last gasp I'd invest whatever I had left on coaching with Emma. 
Tell me, have you experienced the real deal?
* I assume they're faux gagging?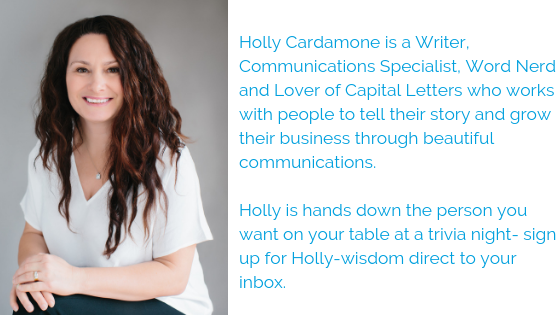 I love sharing insights, thoughts and behind the scenes shenanigans from my communications and writing for business adventures. If there's something specific you'd like to know, please shoot me an email or give me a buzz, and I'll do my best to help, or address it in an upcoming blog post or on my social media platforms.