Blue51 Communications is a boutique consultancy that works (mostly) with service-based businesses providing strategic communications support and mentoring and writing for business services. The power of story is at the core of all Blue51 services and words are at the heart of almost everything that leaves Blue51 HQ. 
Areas of focus include:
Branding- business and personal
Digital marketing

 

Content marketing
Websites
Finding and sharing your unique story and point of difference
Event communications
Defining and finding your ideal client
Key messaging against your business goals, service streams and ideal client
Word of mouth communications to turn your clients into your business promoters.
About Holly Cardamone MA(Comms), MA(WritLIt)
Well, hello! I'm Holly Cardamone. I'm the Word Nerd behind Blue51 Communications, and I am a communications specialist and a writer for business based in beautiful Melbourne, Australia. Why all the capitals after my name? Well, as the great RB says, I'm kind of a big deal and for a while there I was addicted to study. 
Before I really launch into me, me, me, let's talk about you, you, you:
You love what you do, and you're amazing at it. The communications and writing rigmarole? Yeah, not so much! You're juggling a gazillion tasks; managing your finances, marketing the b'jesus out of yourself, being witty and engaging on social media, keeping your mailing list enticed and enthralled, as well as actually doing the work that pays the bills. You're beyond busy- I get that- but what I don't understand is why you are trying to manage your communications all on your lonesome?
There's only so many hours in the day. Wouldn't you rather focus your energies on your core work?
OK, that's enough about you. Let's get back to me.
Whilst it's in my Aussie-girl nature to be self-deprecating, I feel obliged to point out that I'm pretty damn good at what I do with a Master of Writing and Literature and a Master of Arts in Communications to prove it- hence the alphabet after my name. I've been in the communications and writing for business game for almost twenty years #callmegrandma I use my love of language and my passion for communications to create strategies, tactics and products that weave creativity with professionalism, and visual and conceptual aesthetics with effectiveness. I'm all about clarity- in message, in strategy and in audience, so nothing leaves my desk that isn't targeted, measurable, high quality and sustainable in delivery. I'm talking nothing convoluted or overly complicated- rather good, simple communications and writing that connects with your ideal client. 
I have extensive experience in writing across different mediums, for different audiences and for different purposes, be it to educate, to entertain, to inform or to persuade. I am also particularly skilled at creating content that is easily reproduced and cross-promoted across mediums, including media, hard copy publications, digital publishing and social media. Seriously, I can build you a content ladder to the moon and can maximise the b'jesus out of every piece of writing that your business produces. 
I don't do niche. I like the diversity of my client mix too much to narrow down on one specific industry.  I do, however, like working with people who are motivated and positive, who are doing good stuff in the world, and know they need some help shining a light on what they do. I create communications plans and strategies to enable businesses to achieve their broader business plans and goals and to launch their latest and greatest projects, websites, products, events and thing-a-ma-jigs, I've written countless blog posts, newsletters, articles, direct mail pieces, social media captions, blog posts, brochures, flyers, corporate profiles, fact sheets and annual reports, I've drafted hundreds of thousands of words of website content and I've also managed to have a couple of Blue51 cherubs, quite possibly my most gorgeous creations.
Want the third person, almost-suit and heels LinkedIn version?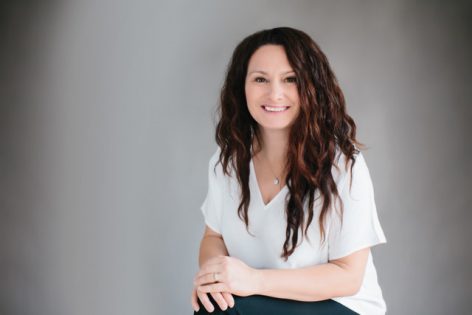 Holly Cardamone is a Melbourne-based writer for business, communications specialist and all round Word Nerd who works with businesses to tell their story and grow their business using beautiful communications. Through her consultancy, Blue51 Communications, Holly provides specialist communications support and mentoring and business writing services. She writes anything and everything, and almost always with a smile on her face and a coffee within grasp. She's a water baby, a voracious reader, an almost fearless box jumper (Google it) and is hands down the person you want on your table at a trivia night.
Here's some more About Me gold:
I'm grew up on a farm on the beach. It's as idyllic as it sounds. I went to sleep each night with the sound of the surf and awoke each morning to cowsong.

 

Thanks to said farm upbringing, I can scale a fence like nobody's business and I've stepped in my fair share of cow dung.
I'm an absolute water baby and am happiest at the beach or by the pool, often MacBook in hand. Oh yes, I like to live on the edge…
I love, love, LOVE to read, and my library card is amongst the most treasured items in my handbag.
Oh gawd, do I love food! For years, I had subscriptions to foodie magazines, and would pour over them each month plotting out all the wonderful things I would go on to cook that month. I positively gloat with domestic smugness when I have a fridge full of fruit and vegetables, and I have so many cookbooks that I could cook a different recipe each day for a decade and still have more to try.
Writing has always held my heart tight and my darling mother still has all the poems and stories I wrote when I was a small child. Almost every piece features a babbling brook. I blame early exposure to Enid Blyton.
Health and fitness are one of my passions, and while the old grey mare aint what she used to be, I love getting outside and hiking. Once, I hiked 60km from Cape Schanck to Point Nepean for Coastrek in 15 odd hours after only 3 weeks training. I don't recommend it, and nor do my feet.

 

My first job was dishing out ice-cream at a fish and chip shop in a tiny little coastal town with a population that exploded each summer. It was bliss.
My second job was scrubbing over 20 sets of dentures in an aged care facility. That wasn't quite so blissful.
One sunny January day, whilst the rest of the country was drinking beers and soaking up the sunshine at beachside barbecues during a public holiday I don't support, I had a beautiful baby girl. Two and a half years later, to the day, I had another one, just as beautiful. Collectively, they're the Blue51 cherubs.
Want to know more?
I (over) share on Instagram and Facebook. I'm also on LinkedIn (in afore-mentioned suit and heels), where I regularly publish articles on all things communications. Each week, my blog has a brand spanking new post that offers glimpses of what I do and how I do it- content marketing, y'all. If you'd like me in your inbox on a semi-regular basis- easy peasy:
You've made it all the way to the bottom of this page- you freaking superstar! I bet my left you-know-what that you have one remaining question, and that's why Blue51? What's the significance behind my name? Fret not; I'm happy to share the Blue51 Communications brand story.