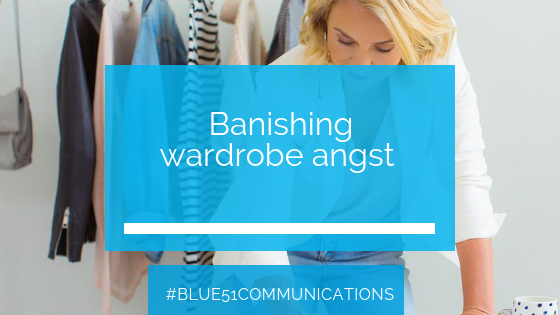 I read once in Vanity Fair that as President (and probably prior and post) Barack Obama only had two types of suits in his wardrobe in a bid to reduce the amount of decisions he made each day. This makes complete and utter sense to me, but I also find incredibly boring and limiting! That said, I'm no fashionista, and I never really have been one to use style to express myself creatively. Stylish and put-together certainly doesn't come easily to this mum/writer who spends most days in Lululemon so whenever I have a face to face meeting the decision fatigue is beyond frustrating. Until recently, I'd find myself standing in my wardrobe completely uninspired, and felt  like everything I owned was drab, boring and uninspiring. 
I'm all for outsourcing one's weaknesses. Enter the pure brilliance of my beautiful friend Nicole Vine.
I met Nicole this year- she's a Thriving Woman, just like me- but I'd been stalking her Instagram for quite some time. Nicole is a lawyer, personal stylist, mum to three and a slave to a cheeky cocker spaniel. Speaking of thriving, she has a thriving styling consultancy and her personal branding expertise is extensive. Nicole is known as the thinking woman's stylist (I'm a looker AND a thinker, you see) and her focus is on helping women experience effortless stylish dressing for their days, allowing them to stand out for all the right reasons. She's vibrant, vivacious, caring, clever, and funny AF. Put simply; I love her guts so she was the only option for when it came to getting some professional support in bringing me out of my style rut. I also knew she'd make the entire experience wonderful. That's putting it mildly! 
Nicole doesn't know this, but my styling session with her wasn't my first. I had my first personal styling session when I was 17 years old in year 11, when a group of my friends, using varying levels of tact, suggested I pair my Levi 501s with something other than a band tshirt, and especially not my favourite Sex Pistols top.
Nicole's process was a little more indulgent, empathetic and professional.
First, I completed and extensive online brief before Nicole came to my home and assessed my wardrobe; assessed, not judged, I must add. We explored my needs, my wants and my preferences, then a week later, as directed by Nicole, I drove my car to the valet parking desk at Chadstone, then stood outside Tiffany and Co until a blonde goddess come to life glided towards me, enveloped me in a giant hug, then took me to a private dressing room to get my gear off. 
I had a wonderful time- Nicole had plotted out a course around Chadstone that took care of everything I needed. We were greeted by racks upon racks of clothes she'd preselected, all completely personalised and tailored to me, my style (or desired style) and my lifestyle. It wasn't just trying on clothes- there was a massive educational component as well. She was respectful yet gently insistent in supporting me as I leapt out of my comfort zone, and she had just the right amount of grunt to help me dislocate my shoulder to extricate me out of a jumpsuit that really could have done with an extra button. She pressed her phone, and a valet attendant whisked away our shopping bags so we didn't have to schlep them around the centre. Once everything on Nicole's list was ticked, she gave me another hug, then sent me off for a coffee to finish off my day.
That was all incredible- no doubt about it, but the hits kept on coming.
Nic came back to my house, complete with her own giant green screen to create my lookbook. The lookbook is the pièce de résistance of Nicole's signature service. This is where the magic happens- she's basically created me a lookbook-cookbook of the different combinations of outfits now in my wardrobe, organised by categories. I'm not exaggerating to say there are more than 150 individual outfits from head to toe. I never have to wonder what to wear again- I just pick a photo and off I go!
Personal style is so much more than what we wear, so, so much more. It's not about the clothes. It's about how we see ourselves, how we want others to perceive us. Yes, after working with Nicole I now have a different outfit for every day of the week for a year, so my decision fatigue in this regard is gone. Beyond this? I have confidence, clarity and more than a little swagger! 
I couldn't be more grateful and I highly recommend Nicole's styling to anyone wanting to elevate their style and invest in themselves. Investing in Nicole's services was hands down one of the best investments I've ever made both professionally and personally. Find out more about Nicole here, and go for it! Just remember to wear good knickers.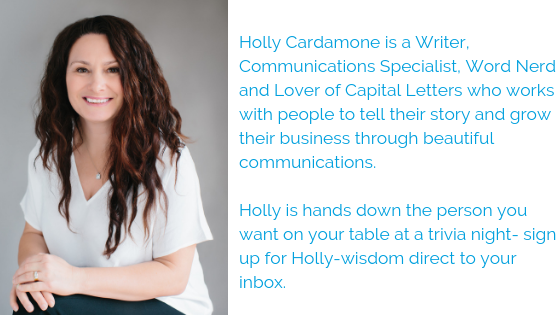 I love sharing insights, thoughts and behind the scenes shenanigans from my communications and writing for business adventures. If there's something specific you'd like to know, please shoot me an email or give me a buzz, and I'll do my best to help, or address it in an upcoming blog post or on my social media platforms.