I'm utterly thrilled to be sharing a recently completed client project in today's Blue51 Show and Tell.
The project:
A fabulous online home for Western Special Needs Dentistry.
The client:
Western Special Needs Dentistry (WSND) provides oral health services to people with special needs, which may include intellectual disabilities, medical, physical or psychiatric conditions. Dental care is individualised, and has the focus of helping people and their families in the most gentle and positive way, resulting in improved appearance and function and perhaps most significantly- freedom from pain.
The client's target audience:
Western Special Needs Dentistry is unique in terms of communications in that the recipient of their services aren't necessarily the key decision makers, so whilst WSND's actual clients are people with special needs, the target audience is predominantly the carers of such people, as well as affiliate health professionals.
The approach: 
WSND feels very strongly that dentistry is secondary to connecting with people, and this philosophy extends across all communications tools and tactics. WSND provides care that is delivered through a calm, positive experience, that is also fun. They play music during treatment, including AFL theme songs. People smile as they exit the service, and the website imagery, copy and structure echoes this concept of calm, compassionate care- so much so that we used those three C's in the tagline and in the logo!
The website also includes a full social story which details the movement of a patient through a treatment sequence, a tactic that is often used in special needs. There is a lot of information, and subsequently a lot of copy, but it is presented throughout the website in a considered, logical structure.
The creators:
I worked with some fabulous colleagues on getting this one out into the world-
Logo design and branding direction: Darren at Branding Love
Website design and construction: Felicity at Metrix Operations
Photography by Nerida Phelan Photography
Copywriting by yours truly
The result: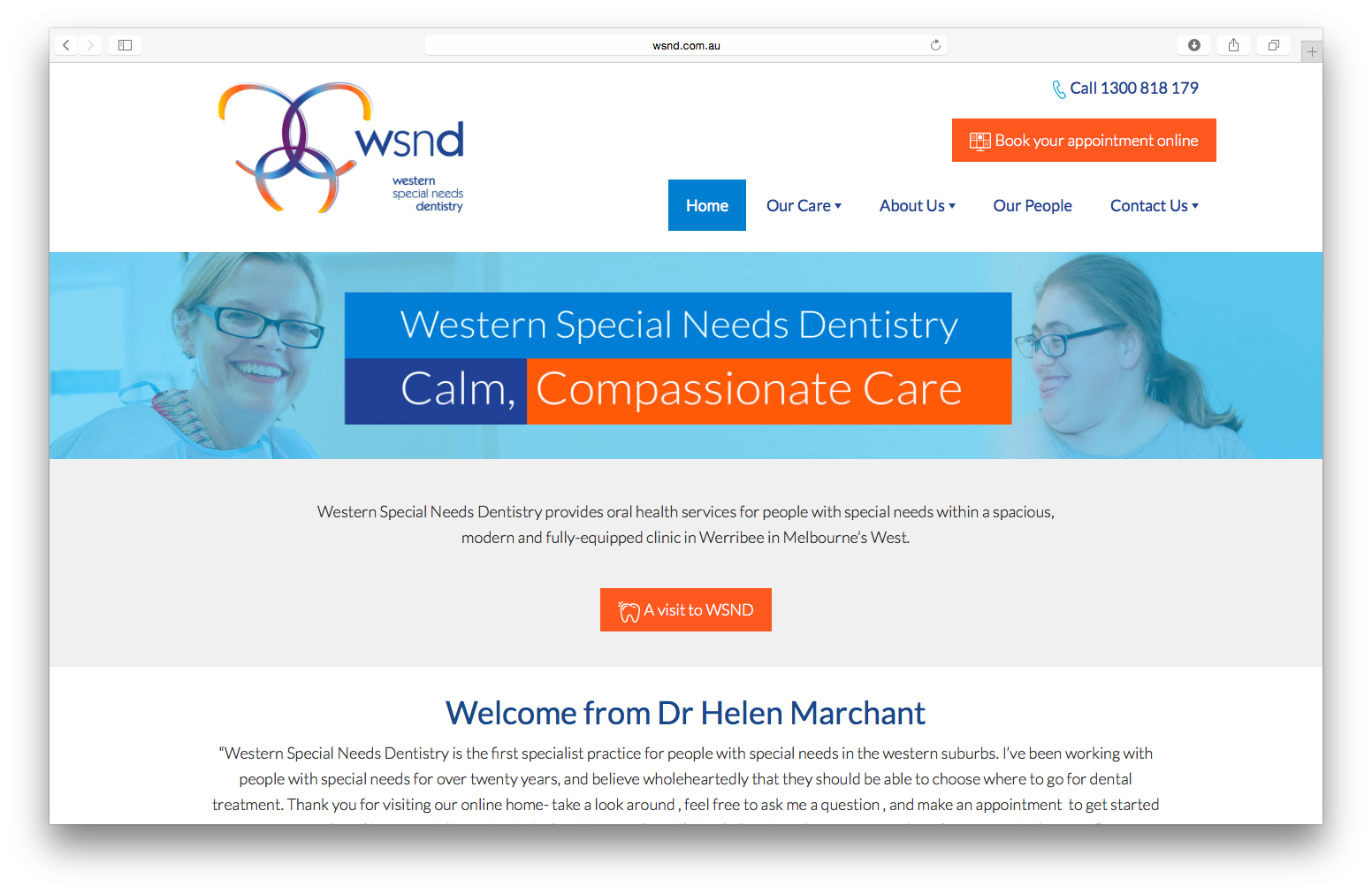 The client has received overwhelmingly positive responses to the website- in particular the social story, which gives carers an effective tool to support patients as they access dental treatment. With some nifty copywriting and detailed page descriptors, this website is performing incredibly well in terms of google ranking. We have a beautiful website, a happy, well-informed target audience, and a delighted client who with a beautiful online representation of an incredible business. In short, we have success!
I love writing for online, especially About pages. They're my favourite. If yours needs some lovin',  please get in touch– I'd love to help out.
[gravityform id="2″ title="true" description="false"]
This is a post in my blog series  about Blue51 Communications Show and Tell. Each month, I'll share some of the projects I'm working on for my fabulous clients. I can't wait to show you both the work we're producing, as well as the amazing results they're achieving in their businesses. 
There's more unabashed bragging on my Facebook and Instagram feeds. If there's something specific you'd like to know, please shoot me an email or give me a buzz, and I'll do my best to help.