I absolutely love a good bio, and I know I'm not alone- according to the GoogleGods, the About Page is the most visited page on a website, hands down. People like to work with or buy from people that they can relate to and identify with. An about page and a bio, when done well, establishes trust, and tells a much bigger (and better) story than your CV ever could hope to. Basically, a bio will reconcile your skills, education and experience within a personal narrative. Storytelling, am I right?
Today's Blue51 Show and Tell is a showcase of one of my favourite bios- written by moi- that tells the story of a wonderful client through a compelling, personal and personality-filled bio and about page.
The project:
Revamp of an online retail business About Page, including providing content about the business founder.
The client:
Yours & Mine Online is an online marketplace, featuring hand crafted & Australian-Made quality furniture, interior decor, giftware and fashion. The focus is on up cycled and eco-friendly products which are sustainable, unique and on trend.
The client's target audience:
Yours & Mine Online customers value eco-friendliness in their style choices. They like to choose sustainable living solutions, and see Yours & Mine Online as their virtual Sunday market or quirky boutique.
The approach: 
My goal in crafting the About Page for Yours & Mine Online, and the bio of it's founder, Kim, was to frame the content as a conversation. I wanted to set a tone that was non-didactic, but expressed Kim's passion for upcycling, eco-friendly design and sustainable living. I wanted the content to be enticing and compelling and to tell Kim's story authentically and accurately. I used a lot of the content that was already on the Yours & Mine Online website, I moved paragraphs around the page, and across pages, I added key phrases that Kim had provided in her Blue51 copy brief and I removed content that was irrelevant and distracting. I revamped Kim's bio section to be less of a resume and more of a story about her professional and personal journey. I then wrote content that answered these five basic questions:
Who am I?
How can I help you?
What's my back story?
Why can you trust me?
What do we have in common?
The results: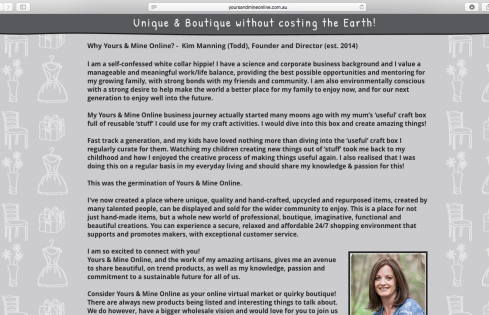 See for yourself- Yours & Mine Online now has a comprehensive, descriptive and evocative About Page that not only shares its business philosophy but also presents the bio of the founder in a way that connects with the reader.  Happy shopping!
[gravityform id="2″ title="true" description="false"]
This is a post in my blog series  about Blue51 Show and Tell. Each month, I share some of the projects I'm working on for my fabulous clients. I simply love showing off both the work we're producing, as well as the amazing results they're achieving in their businesses. 
There's more unabashed bragging on my Facebook and Instagram feeds. If there's something specific you'd like to know, please shoot me an email or give me a buzz, and I'll do my best to help.