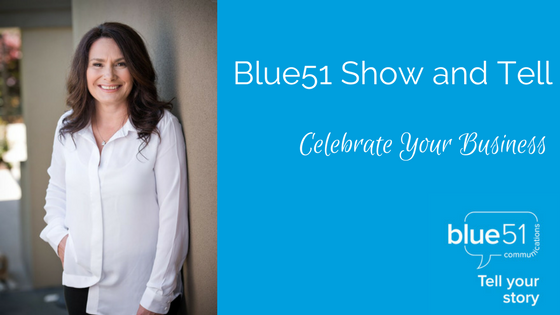 Applying for a business award is an opportunity for people in business to take the chance to really examine achievements and business philosophy in the level of detail that they deserve. Working with clients to navigate the process is an opportunity for me as a communications specialist to help them shine a light on their fabulous work and be recognised for their role in the local community.
Today's Blue51 Show and Tell shares the business award process with one of my favourite clients, Gosh Hair in Mount Waverley*.
The project:
A local government Award Nomination on behalf of my client, Gosh Hair, to celebrate and acknowledge the incredible work they do in their local community, work that they don't bat an immaculately made up eyelid at.
The client:
Gosh Hair Mount Waverley is a contemporary, cas-luxe hair salon with fun, professional staff that provide clients with a beautiful experience. Everything at Gosh Hair starts with their passion for people- and they're incredibly proud of the reputation and strong networks they have both within their local community, and in the hair industry in general.
The client's target audience:
Gosh Hair has a unique mix of clients- from children, families, and men and women across all age brackets. Clients include children, men and women in their early-twenties to mothers of preschoolers and school children to grandparents.
The approach:
The award nomination process involved a written application and a verbal presentation addressing some key criteria. As I was drafting the application, my goal was to highlight that Gosh isn't an everyday business, but one with an admirable commitment to corporate social responsibility. This became the focus of my writing, and I used lots of emotive language and action-based words to convey the depth of the service Gosh provides their local community- way beyond that of a 'stock standard' salon.
Here's the message Denise, Gosh's owner, shared at the Award nomination event:
We've won lots of awards over the years as a salon for our technical expertise, but what I'm most proud of is that in an industry that can be sometimes viewed as somewhat superficial, my business is actively and passionately committed to the wellbeing of our clients, our local community and our environment.
Like most salons these days, social media is a huge part of our business, and of course we love sharing quotes that inspire and reflect our work at Gosh hair. One in particular that I personally love is:
'You attract the energy you exude.'
Our energy is channeled into working hard to ensure that every client who leaves our salon walks out our door feeling heard, feeling like they have beautiful hair that they'll be able to manage and maintain themselves, that they've just been spoiled, and that their needs have been met.
We do this by investing heavily in training, far beyond what is required for my staff regardless of where they are at in their professional journey- each month I close the salon for an afternoon so my staff can have intensive training on techniques, and in 2015, we all had AUSLAN training so clients from our community with hearing impairments can have consultations in their own language, so to speak.
My staff are all from the local community, and went to local schools, and it's fantastic to work so closely with them and their schools as they finish their education whilst working with me. Over the years, I've had apprentices that have gone on to achieve wonderful things such as Apprentice of the Year, Stylist of the Year, and then have opened their own successful businesses, to then work with their local community to support the next generation of young people entering our industry.
As a local business, we are approached a lot by kindergartens, schools and community groups for service donations, and we have a wall full of appreciation certificates. Last year, we  had a beautiful little client come into the salon to cut off her ponytail to be donated to charity to be made into a wig for people with cancer. She inspired her friend to do the same, but her friend attached a fundraising goal to it, and raised over $5000 for Challenge. We shared in the celebration when one of my stylists went along to the school assembly to do the 'big chop.' Since that day, we've had a tribe of little girls coming in to the salon to donate their ponytails. It feels fantastic to be part of something so selfless and giving, particularly when we know there's a lot of people within our community that are fighting their own cancer battles. In fact, we work with a lot of clients who are facing hair loss, and we offer specialised services for those clients, including shaving their heads, and styling their wigs as we would their hair-we want to make their battle just one bit easier by helping them manage their appearance.
Whilst I'm so proud of the impact my business has on the wellbeing of our clients, and of our local community, I'm equally proud of the lack of impact we have on the environment. We're one of Australia's few truly eco-friendly salons. Our basins are connected to water tanks and solar panels generate the vast majority of our energy. We have long-term partnerships with product manufacturers DeLorenzo Australia, an Australian-owned business that creates beautiful, eco-friendly hair products.
Thanks again for the opportunity to present here today- I could talk all day about Gosh, but as I said, everything we do at Gosh Hair starts with our passion for people.
The creators:
Overarching awards communications strategy and copywriting by yours truly, flip worthy hair and feel good content provided by Gosh Hair.
The results:
The Award winners won't be announced until later this year, however, Gosh Hair has been promoted heavily via the Award's communications channels, and at the Nomination lunch received much support- in fact, people in attendance have changed salons so as to experience the Gosh Hair difference for themselves!
Tell me, what do you think about business awards?
*You're all my favourites…
This is a post in my blog series  about Blue51 Show and Tell. Each month, I share some of the projects I'm working on for my fabulous clients. I can't wait to show you both the work we're producing, as well as the amazing results they're achieving in their businesses. 
There's more unabashed bragging on my Facebook and Instagram feeds. If there's something specific you'd like to know, please shoot me an email or give me a buzz, and I'll do my best to help.
[gravityform id="1″ title="true" description="true"]