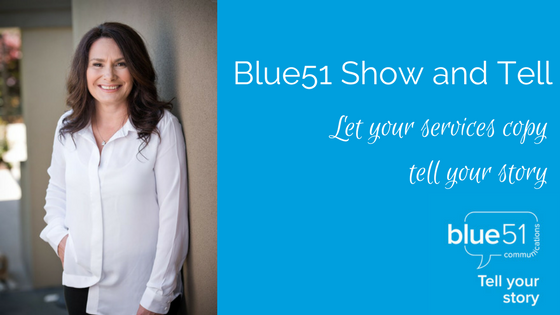 There's nothing like using the principles of story to translate sales and services copy into a narrative that conveys passion, enthusiasm and experience, aka a story. Blue51 Communications' tagline is tell your story, and today's Blue51 Show and Tell gives an insight into the writing process behind helping a business owner do exactly that.
The project:
Launching a new set of services alongside the launch of a beautiful new website.
The client:
Style With Substance provides styling services to equip women in business to make confident outfit decisions each day, with a wardrobe that is creative and practical, functional and fashionable.
The new styling services devised by Style With Substance are designed to make the act of getting dressed effortless, so busy women think about their wardrobe less, so they can focus on what really matters more.
The client's target audience:
Style with Substance has two clearly defined audiences:
1- business owners who need their personal brand to be enhanced through a practical and creative wardrobe; and
2- women in the corporate sector wishing to blend accepted dress codes with individual expression.
The approach:
When I first met with Louise, Founder of Style With Substance, she had an a3 artist's sketchbook tucked under her arm. She opened it to reveal a mind map of her proposed services, complete with indecipherable scribbles in different colours, huge question marks and big ticks next to different items. My Word Nerd heart swelled and I knew this was going to be a fantastic project!
Louise has two distinct target audiences, yet her services are applicable to both. The challenge was to write her services in a way that appealed to both. We went with a descriptive approach for each service, asking a few key questions to help readers resonate with the text and the service as it applied to them, with a list of key inclusions to clarify the detail of the services. There was a risk that there'd be a little too much fluff- and indeed, my first draft had quite a bit of 'texture.' I went much deeper than a simple edit- rather I wrote the content with an eye on the bigger picture to ensure it was aligned to Style With Substance's overarching business communications. Moving way beyond spelling and grammar, I removed all traces of fluff whilst adding clarity in messages, consistent with business goals. Fear not; the fluff was recycled (somewhat) as some of the content was perfect for social media captions.
The results:
Style With Substance has a beautiful new website, and a set of services that are clear, easy to navigate and destined to make recipient's lives much, much simpler so they can focus more on what matters- getting on with being fabulous!
Tell me, do you tell your business story effectively? Please get in touch– I'd love to help out.
[gravityform id="1″ title="true" description="true"]
This is a post in my Blue51 Show and Tell blog series . Each month, I share some of the projects I'm working on for my fabulous clients. I can't wait to show you both the work we're producing, as well as the amazing results they're achieving in their businesses. 
There's more unabashed bragging on my Facebook and Instagram feeds. If there's something specific you'd like to know, please shoot me an email or give me a buzz, and I'll do my best to help.