I can't remember a time in my life when I didn't love storytelling and writing. I always wanted to be a writer, and the opportunity to write every day is in the top three list of things I love about my work. Of course, it's not all rhyming couplets, plot lines and narrative devices here at Blue51 HQ- no, my clients need copy that is a little more practical and results-driven. However, there's a still a very strong storytelling element in my copywriting work that conveys the essence of a business, service or a product through beautiful, targeted language.
Business writing or copywriting aims to clarify and craft information into messages and copy that is compelling to your ideal client.  Today's Blue51 Show and Tell is case study in creative business writing.
The project:
Gift voucher and supporting blog post copywriting for a new service offering by an Interior Design business- a range of beautiful gifts that solve a range of interiors dilemmas, from creating a dream nursery, to styling the home of an empty nester.
Gifts by My Beautiful Abode are a series of 10 interior design 'experiences' across a range of themes, targeting a diverse range of clients.
The client:
My Beautiful Abode is an interior design and styling consultancy focused on helping people to make their homes beautiful, inviting spaces. MBA offers the expertise and creative support to help people achieve the enhancements to their home that they dream of, and makes an enormous difference to the way people use their spaces.
The client's target audience:
Gifts by My Beautiful Abode were actually inspired by the continual request of clients to gift interior consultations after having such wonderfully positivity experiences themselves.
Specific target audiences in mind for the copywriting project were current and former clients, as well as both the potential bestower and recipient of individual gifts.
The approach: 
The first step in this process was confirming the actual Gifts to be included in the series.  Gift services included support for renovators, expecting parents, couples moving in together, people wishing to upgrade their sofa, bachelors (desperately) in need of an interior overhaul and empty nesters. Clearly, each of these audiences  and services have a different  focus and pain point, and so copy for both the gift vouchers themselves and their supporting blog posts needed to take this into account. However, as part of a series, copy needed to be consistent and on brand. The tone was chatty, informal, fun and took into account the following strengths and unique positioning statements:
Gifts by My Beautiful Abode makes gift-giving simple
Gifts by My Beautiful Abode is a convenient, thoughtful gift that will be simply adored by the lucky recipients.
Gifts by My Beautiful Abode provides a solution for both the busy shopper, as well as their busy gift recipient.
Gifts by My Beautiful Abode give the gift of beautiful interiors.
Gifts by My Beautiful Abode were created to make giving the gift of beautiful interiors simple and easy.
Gifts by My Beautiful Abode help people create their sanctuary.
These were an absolute joy to copywrite, and the nature of the service itself as well as their individual target audiences resulted in a creative process akin to painting pictures with words, and resulted in content that I'm incredibly proud of.
The results: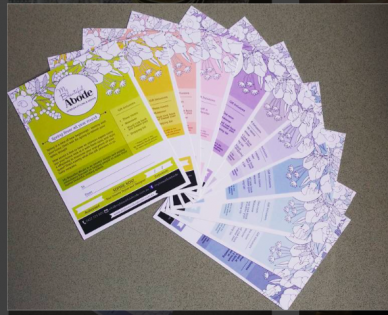 Each individual My Beautiful Abode Gift is a regular, permanent inclusion in the client's social media schedule, and are supported by beautiful Houzz boards. They have their own landing page on her website, and I was thrilled to see MBA's recent Instagram post celebrating the successful redemption of a Let's Celebrate gift.
[gravityform id="1″ title="true" description="false"]
This is a post in my blog series  about Blue51 Show and Tell. Each month, I share some of the projects I'm working on for my fabulous clients. I simply love showing off both the work we're producing, as well as the amazing results they're achieving in their businesses. 
There's more unabashed bragging on my Facebook and Instagram feeds. If there's something specific you'd like to know, please shoot me an email or give me a buzz, and I'll do my best to help.