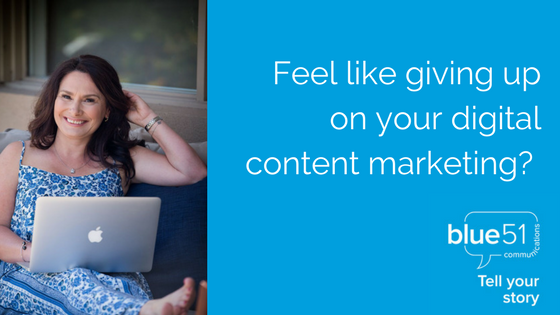 Every now and then an article pops up that sharing free content is a dead strategy, that it's a waste of valuable time and energy and has very little benefit to a business' bottom line. As a communications specialist, a writer for business and someone who works in digital communications and marketing every day- ERRY SINGLE DAY, I tells ya- I wholeheartedly say 'nay'. #buggeroffnaysayers
It's a rare communications plan of mine that doesn't include content marketing as part of an overarching communications strategy. Why, you ask? When content, useful, helpful, beautiful content is sprinkled out into the world like alphabet confetti the benefits are remarkable, and the ROI can be so significant that giving up isn't an option.
Psst- want my FREE 1 Page Communications Planning Quicky Checklist? Damn straight you do!
[gravityform id="5″ title="true" description="true"]
So why should you give away the inner workings of your brain via free content?
Here's the thing- people expect freebies. It's that simple. Give it away, give it away, give it away, give it away, now*. Content marketing and the sharing economy are well established forms of marketing that people expect, and are well recognised as a way to connect with people, to build a community of people who love your business and your intellectual brainpower and a way to establish yourself as the go to filly/fella in your niche.
Need more convincing?
Establish authority:
The more you talk constructively and actively about your area of expertise, the more you share your experience, skills and knowledge via free information, the more you provide helpful, informative content that gives your readers a clear benefit the more you are viewed as the as the expert in your field, the go to person.
Try before you buy:
People get a sense of what it's like to work with you through your content. Content marketing allows you to show not only your expertise, but your passions, your interests and your personality. I had a client contact me after stumbling upon this post, and apparently my 'punch in the New Year right in the face' comment was quite compelling, and labelled me as 'spunky.' Who am I to argue?
Create a following that's not built on the neighbour's property:
When you create a connection with an audience on your own real estate- ie your blog or your website- you have a smidge more control over how you communicate with your audience, particularly if your free content is delivered via an email list. If Facebook announces a new algorithm change that feels a whole lot like being pushed to pay to play, you can still reach your audience's inboxes, if not their feeds.
Build trust:
Over time, people feel like they know you, and that not only do you really you know your stuff, you're someone with content that provides a tangible benefit to their business, and that they genuinely like hearing from. If you are regularly adding value and a bit of fun to someone's inbox, readers do show gratitude by sharing your content and by engaging with it with comments, likes and double taps and other such lovelies.
Here's the kicker- you may not necessarily convert every recipient of your free content into a client. That's okay. You've still put some pretty fabulous goodwill out into the world, and you will have shared information that helps people in their daily lives. That's never a waste.
Tell me, are you convinced to keep plugging away at your content marketing, providing free content, or are you ready to have a crack?
A logical next step is an editorial calendar to keep all your free content ideas aligned to your broader business communications goal- here's one I prepared earlier.
*Admit it, you're fighting the urge not to rip off your shirt and jump around singing this Chilli Peppers classic, aren't' you.
This is a post in my Communications Toolkit blog series  . Each month, I share insights, hints and tips from my communications and copywriting bag of tricks. I'll show you how to rock copywriting a range of products, tactics to communications glory and how to use communications and PR to solve your business marketing problems. If there's something specific you'd like to know, please shoot me an email or give me a buzz, and I'll do my best to help, or address it in an upcoming blog post or on my social media platforms.
[gravityform id="1″ title="true" description="true"]