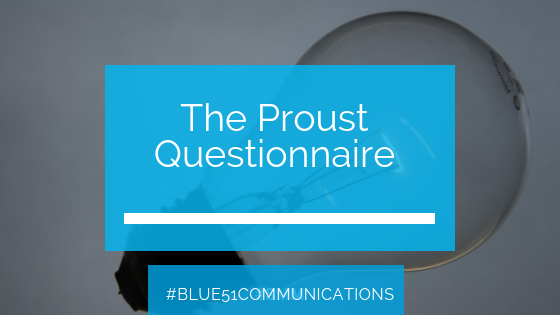 Have you heard about The Proust Questionnaire? I first came across it in 2003 when I was completing my Master of Arts in Professional Writing and Literature and I was spellbound. My Creative Non-Fiction lecturer showed it to us as a fantastic way of getting to the heart of an interview subject. It wasn't created by Marcel Proust, the French novelist and essayist, but he is widely credited for it's popularity. Confession time- I can't actually stand Proust's writing, I find it dense and impenetrable and pretentious, but I LOVE the concept of The Proust Questionnaire. He believed the answers to the 35 questions showed a person's true character and would ask people at parties to share their answers. They're a fabulous way to get to know someone beyond the level of superficiality that often comes with interviews, and with business writing in general, and so I have asked some of my clients to complete ten of the questions. Of course, it's only fair that I should answer them too, so here we go!
The Proust Questionnaire by Holly Cardamone
What is your idea of perfect happiness?
A beautiful beach (the North Shore of Hawaii would do perfectly), my family, the sun, the surf and nowhere to be!
What is your greatest extravagance?
Professionally- not working within a niche like most other communications specialists and writers. The diversity of my client list is where the magic is for me, but it does limit my marketing.
Personally- and this is quite shallow- but it's my hair keratin treatments! Pre-keratin, one gust of wind and I looked like an extra from the Lion King. Not having to constantly have a hair elastic on my wrist is liberating.
Which words or phrases do you most overuse?
I swear like a MOFO and this is not a good quality, nor one which I admire within myself, and it's something I'm constantly working on with very little response.
What do you consider your greatest achievement?
My Master of Arts in Communications because I went into it with no communications professional background, but a passion for words and language and people. Of course my family life rate highly too!
Where would you most like to live?
I absolutely love my house in Melbourne, but would I say no to a beach house perched on a cliff overlooking the ocean? Bring it!
What is your most treasured possession?
I have two engagement rings- one is mine, and the other is/was my grandmother's.
What is your most marked characteristic?
Physically it has to be my smile- I'm Holly and I'm a grinner, something that was only obvious to me in my early twenties and in my farewell card, almost all colleagues made mention of my smile. I had no idea that I walked around beaming.
Personality- it's my laugh. I love a good laugh and I'm often the person that brings a smidge of lightness to a conversation, quite often inappropriately.
Who is your hero of fiction?
Jo from Little Women. I wanted to be her when I was a child.
Who are your heroes in real life?
I'm blessed with family and friends that I look up to every day, who inspire me in a thousand different ways. I love people doing good stuff in the world, so Oprah with her work is right up there.
What is your motto?
Tell your story! Story and words are at the heart of my life, professionally and personally. Story is everything.
Tell me, have these questions got you thinking?
[gravityform id="1″ title="true" description="true"]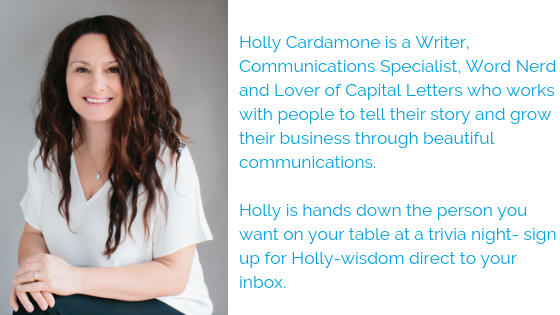 This is a post in my Tell Your Story blog series. Each month, I share the answers of ten of the Proust Questionnaire questions from my clients and colleagues. If you'd like to know more about my work, or would like the full 35 questions from the Questionnaire, please shoot me an email or give me a buzz, and I'll respond in a jiffy.