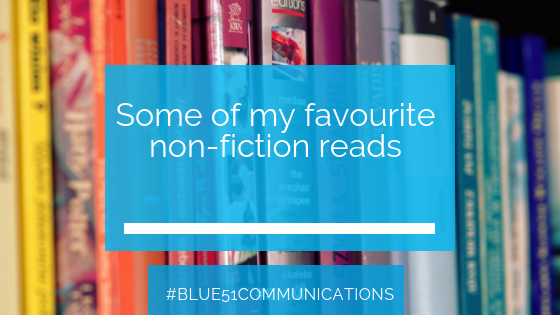 Each December for the past two years, as the summer holidays approach, I start getting messages that become increasingly pushier from people wanting my latest best reads list to plan out their summer reading. In 2016, I started publishing a list of my favourite reads from the year before, and if the antsy messages in my inbox and my analytics are correct, it's a post that is well-received, and so I've continued the tradition. Who doesn't love a good read? If you don't, then back away slowly. There's no place for you here at Blue51 HQ. If you do, here's a link to 2016's list, and 2017's and 2018's for your reading pleasure.
In mid 2015 I wrote a note to myself during my quarterly review and planning session- 'For the next 12 weeks read solely for pleasure ie read absolutely nothing business related.' You see, I had relaunched my business as Blue51 the year prior, and threw myself back into the world of small business, reading and devouring anything and everything. The problem is, a lot of business literature can't really call itself literature. I wanted to read with no other outcome than pure feeling and enjoyment rather than a list of action items. I have over the past few years found a few pearls in the piles of blah, but I found myself really craving some bloody good writing.
The best thing about good writing? It makes you a much, much better writer.
I discovered that first hand in 2007 when I commenced my dream course of study- Master of Professional Writing and Literature. This was the university program I promised myself when I made the 'smart choice' in Year 12 when I selected a Bachelor of Science in Nursing degree over an Arts degree and I was so incredibly excited to immerse myself in words and language. One of the subjects I selected was Non-Fiction Writing, thinking it would be beneficial to my career, even if I didn't think it would put stars in my eyes like poetry. Ten minutes into the first lecture and I realised just how wrong I was- I was as inspired and thrilled and enthralled by the non-fiction writing as I was with poetry. Good non-fiction writing uses the techniques of fiction- plot, pacing, characterisation- and it's one of my favourite genres. Here, for your enjoyment, are some of the best non-fiction reads that have made my lists for the past two years:
Everywhere I Look by Helen Garner
Oh, Gawd, Helen Garner could write a shopping list and I'd be gushing over it. She's my favourite writer, and if I ever met her I'd probably wet myself, forget my name or mutter incoherently, or all three. I love Helen's non-fiction- it's creative, literary and beyond all that her insights into the minutiae of day to day life- as well as her deconstructions of the big things in life- make my heart sing.
Scrappy Little Nobody by Anna Kendrick
This book fell into my hands at the library, and was bloody hilarious. I'd seen and read a lot of Anna's interviews and love her self-deprecation, her smarts and her refusal to buy into the BS of the world she inhabits. This is the sort of book I'd give to my daughters to read when they're teenagers as she's a great role model for working hard and staying cool.
What happened? by Hillary Rodham Clinton
This book was incredible- not just the best book of my year, but right up there with the best books I've ever read. It was bloody hard to read in terms of the sheer frustration of the content, and it put me in a bad mood for a good two weeks. It was beautifully written, insightful, scathing and so, so clever. I gave my mum a copy and I'll be giving my daughters their own copies as well to read and be inspired by. At the same time I was reading What Happened?  I saw one of those nauseating Instagram hustle posts that said something like 'If you're not working for yourself, you're making money for someone else.' I wrote a snarky comment asking what about teachers, health workers, policy makers, people dedicated to serving the broader community, and then hit unfollow. What Happened? is not just a memoir of a truly horrid time in history but it's a call to action for all of us to focus on something bigger than ourselves. Loved it.
On Life: My Mother's Story by Kate Grenville
Disclaimer: I love Kate Grenville and everything she writes, and this book was no exception. It's Kate's homage to her mother, examining from a daughter's perspective her mother's life and its seasons. Love, love, loved it!
Girl in the Woods by Aspen Matis
A memoir similar to Wild by Cheryl Strayed (in my top 10 in 2015), Girl in the Woods is another tale of a woman solo tackling the Pacific Crest Trail in an attempt to out-walk her demons and craft herself a new life. I read this in one night, sitting up way past idiot-o'clock, willing this young woman on her journey. It was sad and exhilarating and so evocatively written. I just wanted to hug Aspen; instead, I recommend you read her book.
Bill Bryson– anything and everything
I read a Bill Bryson book in my late 20s, and now in my early 40s am making my way through his books. They're funny, insightful and more than once I've startled a small child snuggled next to me by laugh-snorting.
Option B by Sheryl Sandberg
Sheryl quite clearly has lived our worst nightmare- written after the sudden death of her husband, this is a book that weaves her personal story with theory about facing adversity and building resilience and the steps she takes to support her family to find joy in the aftermath of such heartbreak. Sheryl is a fantastic writer and after reading Option B, I reread Lean In, another freaking good read from a few years ago which is filled with amazing one-liners that can keep a Word Nerd's social media strategy fed for years, as well as inspire and confirm my business and life philosophy.
Land's Edge by Tim Winton
I'm a water baby, and I grew up on a farm on the coast, where I went to sleep to the sound of king tides. When I moved to the city at 18, I used to pretend that the traffic white noise was the surf. This beautiful memoir not only makes me want to walk on the beach after a storm, it is writing that is pure perfection that makes me adore language and simple, sparse prose. Bliss…
Butterfly on a Pin by Alannah Hill
This was such a surprise to me. Alannah Hill is an incredible writer, first of all, and secondly, she completely busted any preconceptions I had about her. I knew her reputation as quirky and driven but I had no idea that her business success was underpinned by a lifetime of abuse. It was raw, it was sad, it was funny in places, but man, the strength it must have taken her just to put one foot in front of the other some days. It shows you that 'success' can be all smoke and mirrors, especially in the business world which can be pretty much built on illusion.
Into the Wild by Jon Krakauer
Gosh, my non-fiction writing lecturer in my Master of Arts and Literature suggested this book to me over a decade ago as an example of creative non-fiction- using the techniques of fiction and storytelling (pace, prose, character, setting, plot etc) to write a piece based on fact. I can't believe it took me so long to get it off my 'To Read' list and onto my 'OMFG That Was Good' list. Far from giving my adventurous spirit the kick up the bum to go venturing in the wild, the sadness, the desolation, the isolation was so evocative I'm never likely to set foot solo in a Kathmandu store, let alone go off track in the bush.
Furiously Happy by Jenny Lawson
This book made me laugh so hard that my older cherub nearly called an ambulance when she saw me on all fours, choking with laughter and sucking in oxygen. It's basically a hilarious account of the writer's fight with depression. Read this for no other reason than for Jenny's description of Japanese toilets.
The Trauma Cleaner by Sarah Krasnostein
This memoir was recommended to me by someone in one of my Writer's Toolkit Workshops earlier this year after I told my story about how I moved from Registered Nurse to Word Nerd (thanks Jen!). Thankfully, nothing I came across in my nursing career was like the scenarios played out in this book which I read in less than 24 hours. It was harrowing, distressing, gobsmacking and in many ways inspiring. How can you fail to be inspired by someone who is raised violence, neglect and poverty, who has a gender reassignment in a time when it wasn't even really a 'thing' (not my words), who moved from prostitute to trophy wife, then launches a wildly successful business cleaning trauma scenes and hoarders' homes? Sarah, the author, shares Sandra's story in such a beautiful way- she actually won the Premier's Literary Award for this piece, amongst other awards. It's a tricky read, though, just from the descriptions of the scenes of the homes to be cleaned, so if you're slightly squeamish, give it a miss. The violence is distressing too.
Tell me, do you love a good read? Are you non-fiction leaning or strictly fiction all the way?
[gravityform id="8″ title="true" description="true"]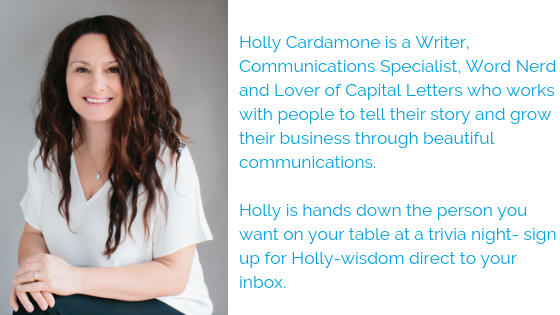 This is a post in my Holly's Story blog category. Each month, I share some insights, thoughts and behind the scenes shenanigans from my communications and writing for business adventures. If there's something specific you'd like to know, please shoot me an email or give me a buzz, and I'll do my best to help, or address it in an upcoming blog post or on my social media platforms.