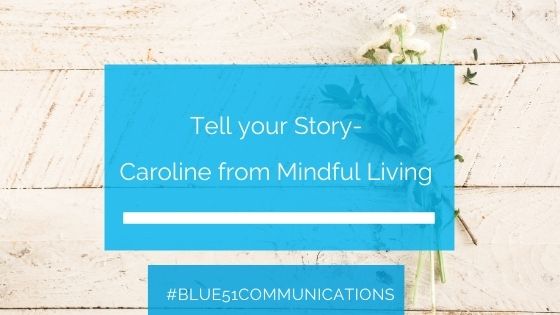 It's my favourite time in my blog schedule, when I shine a light on my incredible clients by way of my The Proust Questionnaire feature. Today we have fabulous Caroline Burrows from Mindful Living. Caroline works with therapists working in the mental health space, specifically trauma, and is an Australian leader in EMDR, a treatment for PTSD. As an Accredited EMDR Trainer she delivers innovative post-basic training EMDR workshops that encourage, inspire and motivate therapists. 
The Proust Questionnaire by Caroline Burrows

What is your idea of perfect happiness? 
Being in a playpen with countless golden retriever puppies that I can play with as long as I like! 
What is your greatest extravagance? 
Eating chocolate ice-cream straight from the tub, while in a bubble bath. 
Which words or phrases do you most overuse? 
When I'm speaking, I say 'um' too much. It's something that I'm trying hard to rein in! When I'm writing, I think I overuse the word 'lovely'. 
What do you consider your greatest achievement? 
Founding a successful group private practice, becoming an Accredited EMDR Trainer and developing the first inpatient EMDR program in Victoria. Wait, that's three! It's hard to pick one. 
What is your most treasured possession? 
Bluey, my teddy bear that I have slept with each night for over 30 years. And no, I'm not ashamed to admit that! ☺ 
What is your most marked characteristic? 
I have an energetic, bubbly personality and a quirky sense of humour. 
Who is your hero of fiction? 
Alas, I don't read enough to have one! 
Who are your heroes in real life? 
My mum and sisters
Roger Federer
Brené Brown
My business coaches 
What is your story? 
I am an Accredited EMDR Trainer and Consultant and my background is in Clinical Social Work and Psychotherapy. I have 15 years of experience providing therapeutic services across community, hospital, medical and university settings. I currently provide innovative EMDR training and consultation and clinical supervision to mental health professionals across Australia and abroad. I am also the Owner and Director of Mindful Living, a group private practice in the eastern suburbs of Melbourne. As the EMDR Coordinator at The Melbourne Clinic, I developed the first inpatient hospital EMDR program in Victoria. 
What is your motto? 
Onwards and upwards! 
Find out more about Caroline and her incredible work here. Caroline's clinical practice, Mindful Living, provides counselling, psychology and EMDR services for adults, children, adolescents, couples and families in the eastern suburbs of Melbourne, Australia. 
I love shining the spotlight on some of my clients and colleagues. If you'd like to know more about my work, or would like the full 35 questions from the Questionnaire, please shoot me an email or give me a buzz, and I'll respond in a jiffy.