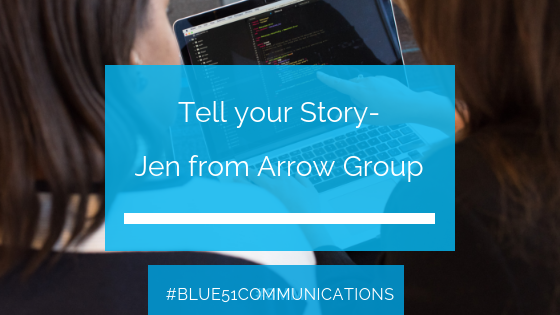 My goodness, I love sharing my clients' stories via The Proust Questionnaire! Today we have gorgeous Jen from Arrow Group. Arrow Group is a boutique recruitment and HR business in Melbourne's beautiful East. 
The Proust Questionnaire by Jen Ramage, Arrow Group
What is your idea of perfect happiness?
To enjoy good health and be able to do something with my life that not only earns me a living but also makes a contribution back to the community.
What is your greatest extravagance?
A couple of years ago I headed overseas, as part of a girls' trip to celebrate my best friend's 50th birthday.
Which words or phrases do you most overuse?
"I was just thinking"
What do you consider your greatest achievement?
Apart from my gorgeous children, I consider taking the risk and starting my own business as being my greatest achievement.
What is your most treasured possession?
My Thermomix because I love to cook.
What is your most marked characteristic?
Tenacity
Who is your hero of fiction?
I don't have a particular hero of fiction however; I am thoroughly enjoying Michelle Obama's autobiography "Becoming". An intelligent woman who was a  key force in the success of the Obama Presidency.
Who are your heroes in real life?
Olivia Newton-John: because she is talented and passionate about creating a holistic approach to health care.
What is your story?
I have enjoyed a successful career in sales including the recruitment and labour hire industries. Frustrated with the lack of  commitment and care, I felt the industry could do better. Enter: Arrow Group a niche business which focuses on providing a fully personalised service to both clients and candidates. We never take our position for granted and are continually striving to be better in ourselves so that we can make other people's dreams a reality.
What is your motto?
Live for today, tomorrow has already gone and the future will unveil itself in due course
Find out more about Jen and Arrow Group here. 
This is a post in my Tell Your Story blog series. Each month, I shine the spotlight on some of my clients and colleagues. If you'd like to know more about my work, or would like the full 35 questions from the Questionnaire, please shoot me an email or give me a buzz, and I'll respond in a jiffy.