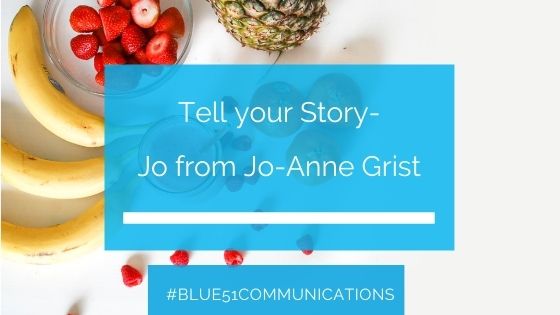 Tell your story is my tagline, it's my book title, and it's what lights me up! I simply adore sharing my fabulous clients' stories via The Proust Questionnaire! Today we have fabulous Jo from Jo-Anne Grist Holistic Business Coach. Jo provides business coaching services to female solopreneurs to help them reenergise their business and live a life they love. 
The Proust Questionnaire by Jo Grist
What is your idea of perfect happiness? 
To be in total flow and synchronicity with flexibility, time and income to develop my business to next level and work on passion projects. 
What is your greatest extravagance? 
I have to choose one (insert raised eyebrows), tucked up on the couch in the sunshine reading a book with a fave glass of vino to hand. 
Which words or phrases do you most overuse? 
Totally 
What do you consider your greatest achievement? 
Treading my own path, trusting my intuition to put my coaching business on hold and be totally present to be an advocate as my husband's carer, as I supported my soulmate, especially during his final months of battling complications with Stage 4 brain cancer. 
What is your most treasured possession? 
Currently it is an A3 sized framed photo of my late husband Edwin & I together depicting our celebration of life taken at his James Bond themed cocktail party for his 60th birthday elebration. 
What is your most marked characteristic? 
Resilience 
Who is your hero of fiction? 
Xena: Warrior Princess 
Who are your heroes in real life? 
Turia Pitt
Richard Harris
Michelle Obama
Oprah
Frontline workers 
What is your story? 
I am a Holistic Business Coach from Melbourne, Australia. It is my passion is to work 1:1 with women solopreneurs who have been operating a business for 2+ years, are self-motivated, take self-responsibility and are looking for guidance to refine their business model through coaching and mentoring to find flexibility & balance to scale their business. 
I help clarify investment in resources of time, money, energy to reduce any roadblocks that are holding them back in achieving vision and goals for the next 3, 6, 12 months. 
Coming from a place of first-hand experience in my own entrepreneurial journey, unless you have systems and strategies in place, it is tough balancing your work and life commitments. 
I therefore take a 'holistic', big picture view when reviewing a business model, and through an initial 'Discovery Session' with a client, focus on areas of business and lifestyle that impact. 
What is your motto? 
Be true to yourself and tread your own path. 
Find out more about Jo and her incredible holistic business coaching and programs here. 
I love shining the spotlight on some of my clients and colleagues. If you'd like to know more about my work, or would like the full 35 questions from the Questionnaire, please shoot me an email or give me a buzz, and I'll respond in a jiffy.