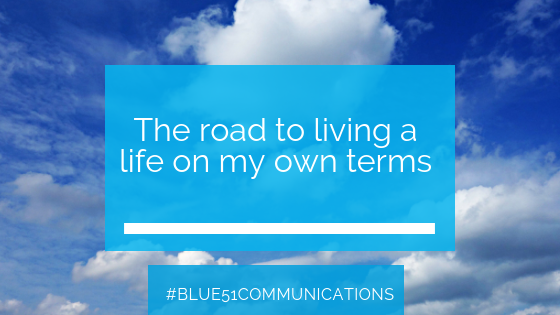 AKA turning my back on the hustle
Did you know that at Blue51HQ Monday = HollyDay? It's an offical thing, decreed in blue texta on an A4 sheet of paper. A new one, in fact, not even a recycled one that I usually reserve for scribbles. That's how important it is to me. 
Maybe it's because I'm Italian, and la dolce vita and siestas are part of my DNA, but I've never subscribed to the concept of living to work. Nope, I work to live.  That's not to say I don't love my work- I wholeheartedly do. I live and breath writing, words, literature and communications. Life and family takes precedence over work for me, any day of the week.I'm in business for the flexibility- there, I said it. I built a business to support my lifestyle, otherwise I'd have a job.
Blue51 Communications was launched in January 2014 after a two-ish year work break for me, although I was writing in that time #cantstopwontstop in some form or another. I launched with one client and threw myself headfirst into small business life. I had been self-employed before, so it wasn't new to me, but gone were the days where I could be up til 4am writing, fuelled only by blue cheese and crackers and a bowl of peanut M&Ms. Now on relaunch, I had to blend and balance my family life with a work life. 
About eighteen  months into my business journey, the balance was out. I simultaneously felt like a crappy mother and a crappy communications specialist. I limped to the end of the year, and spent the summer break putting in some boundaries around my business to get the balance back. I limited my work hours against a simple rule: no juggling attention between work and cherubs. Not working whilst offspring were around meant no more taking phone calls before 8.45am or after 3.15pm. No more writing emails between 4pm and 8pm whilst concurrently supervising homework, cooking dinner and referring battles between the offspring. I added a rule for no client facing work or meetings on Mondays or Fridays unless absolutely necessary to create some space and bookend the working week and create some availability for the full range of school commitments that seem to fall on those days. 
Still, even with these 'rules' in place, the balance was still out. I had clear definitions between work time and family time,  but with weekends now completely consumed with cherub sport, there was very little life admin time (you know, those shitty things we have to do like have food in the house) and bugger all Holly-time other than my early morning gym sessions. Whilst I am an early bird, getting up at 5.30am Every. Single. Day just to be alone gets old, real quick. Speaking of old, at 45 years of age, my knees ain't what they used to be, so running is no longer a sustainable option for me and burpees stop being fun midway through the first.
My me-time was less zen and more akin to self-inflicted flagellation.
In the early 00's work/life balance was a massive corporate buzzword. I know the concept of work/life balance is now sneered or frowned upon. I've heard people (gurus, if you will, but I won't) are advocating work/life alignment, whatever TF that means. Me; I like work/life balance. It suggests a scale, something measurable. I'm someone who likes well-defined compartments. They suit my borderline control freak personality. I believe that with some boundaries and a couple of decent checklists not only is a balance between life and work attractive, it's highly attainable. 
 The problem arises when the boundaries between life and work blur and cancel each other out. When you have your own business there is a real danger in being constantly on. You see, I'm not only CEO of my business, but I'm CEO of my family life, and when my days tilt towards one over the other, balance is out, mistakes happen and I'm a frazzled mess. Me no likey being a frazzled mess.
I know the adage 'a Sunday well spent brings a week of content' but I think people using that concept in the context of doing all their life and work admin have completely misunderstood it. I have no desire to spend my Sundays shopping and batch cooking for the week ahead, or prepping for the week's meetings and deadlines. It's hard to tell your kids to get outside and get some fresh air and free play, all whilst tied to a to-do list. That's work!
Weekends, especially Sundays, are a time for hanging out with my family and my friends. They're a circuit breaker before rushing headlong into another packed week, and stuff spending down time doing 'stuff' for the future. What about living for the present? I couldn't see a way out until one day I had a bit of a bloody obvious realisation- have a business day a week off! Easy peasy, lemon squeezy! Except it wasn't.
For two years, I had been trying to work towards having Fridays work-free, but as anyone with a business, or a pulse, really, knows, Fridays are very easily hijacked. 
Mid-last year, on one God-awful rainy Monday morning, I dropped my cherubs off to school only to discover that the youngest had an excursion scheduled and was in the wrong uniform. She cried, and after I calmed her down and left her in the care of her teacher, I drove home to a house with no fresh fruit and veggies and I cried too. As a naturally organised person, I don't like feeling out of control, like I'm lurching from one thing to the next without a buffer. That's when I took out that fresh piece of blank paper and wrote Monday=Holly Day.
I don't schedule anything work-related for Mondays. It's my day to reset and refocus. I do all my life admin: fruit and veggie and grocery shopping and appointments and the like. I walk my dog for longer than a quick bolt around the block. I cook, which is something I love to do when unharried, I write, and write about absolutely nothing to do with business or communications. I have coffees with friends or solo with absolutely none of the mum-guilt and biz-guilt that can stupidly come with a herbal tea in the sunshine at a gorgeous cafe. I can also very easily imagine a float tank, a facial, a hike and a mani-pedi in the near future. I return to my desk refreshed, recharged, energised and balanced, with a house full of food. 
'The goal isn't money. The goal is living life on your terms.'
On my noticeboard, amongst all the photos of things I love and my notes to self, I have this quote by Chris Brogan. Living life on my terms is one of my core values, and the financial aspects of that are secondary. I work hard every day to create a work environment that I love, but one that doesn't impact on other areas of my life. I live by my boundaries and expect others to respect them too. 
Here's my trusim- I work to live, not live to work.
I was influenced by this mantra in my late teens when I had a university placement for my Bachelor of Applied Science in Nursing at a palliative care centre. One of the nurse leaders shared a book with us, Regrets of the Dying, and excerpts from it have stayed with me over the years. Whilst I'm a hard worker, I'm committed to playing equally hard and have always made an effort to prioritise my life away from my work. 
I believe it's important not to work 80 hours a week. I run my business, not the other way around. However, I'm running my business in an environment that celebrates never-ending hustle. The hustle never sleeps, and nor should you! To being a slave to your business I say, well, f#ck that! Sorry I can't be more eloquent, but that's basically what it comes down to. The whole hustle, hustle, hustle concept is unsustainable, unattainable and quite frankly, super unattractive. Do I have work/life balance now that I have given myself a day a week off? Of course not, but man, my life is so much better aligned to my values. That, my friend, is living life on my terms. 
Tell me, do you aim for work/life balance? Does the hustle concept bore you to tears too?
[gravityform id="1″ title="true" description="true"]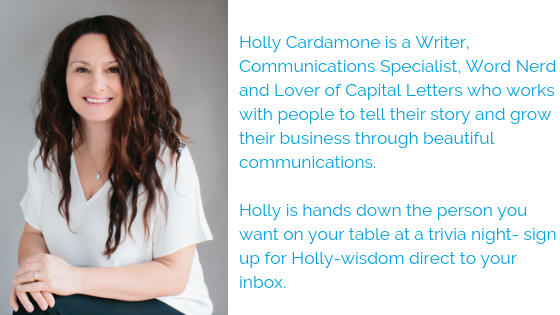 This is a post in my Holly's Story blog category. Each month, I share some insights, thoughts and behind the scenes shenanigans from my communications and writing for business adventures. If there's something specific you'd like to know, please shoot me an email or give me a buzz, and I'll do my best to help, or address it in an upcoming blog post or on my social media platforms.