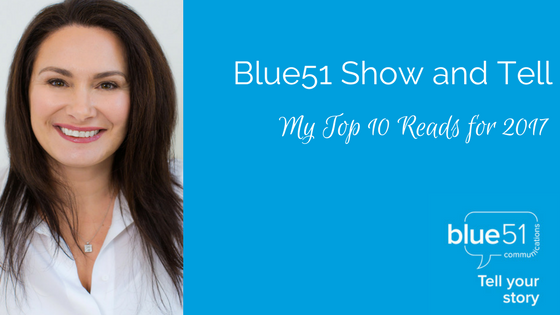 Each month, when I stroll my way around my Google Analytics, one of the highest performing posts is last year's reading round up. Seems everyone loves a good book recommendation, and Lord knows I love sharing an opinion, solicited or otherwise.  Of course, as per last year, these books aren't necessarily new books, but they're new reads for me.
Here's the thing- writers read. You want to improve your writing? Read. It's as simple as that. Reading gives me so much joy and pleasure, but it strengthens my writing and my creativity like nothing else. This year's list is pretty light on in terms of books about business, but any piece of work that makes me rethink my sentence structure, or try a new opening or spark my mojo will obviously only benefit my business writing projects.
Let's get reading, shall we?
1- Game of Thrones: A Song of Ice and Fire by George RR Martin
OK, I'm 98% sure this series is the reason my book total is down by 15 this year, BUT each of these books weighed more than a newborn. My husband gave me the series for Christmas last year, and I absolutely devoured them. They're a fantastic read whether you've seen the series or not, although I was a bit over all the pillaging and raping by halfway through the series.  I wish I'd read them first because they lay out who's who in the zoo much more clearly than is possible with the TV series.
2- The Natural Way of Things by Charlotte Wood
I freaking loved this book. It reminded me of The Handmaids Tale (which I also reread this year alongside watching the incredible series and loved it as much as when I was a wee thing in my Year 12 uniform)  in terms of the dystopian-ish, all-too-could-be-true narrative. I read it in one sitting, and then felt sick about the way the world (and this country) views women.
3- Mr Wigg by Inga Simpson
A beautiful, sad and melancholy read, this one. The old man with shaking hands image had me teary, and so did his divine connection with his grandchildren. A gorgeous, gentle novel with divine prose.
4- Scrappy Little Nobody by Anna Kendrick
This book fell into my hands at the library, and was bloody hilarious. I'd seen and read a lot of Anna's interviews and love her self-deprecation, her smarts and her refusal to buy into the BS of the world she inhabits. This is the sort of book I'd give to my daughters to read when they're teenagers as she's a great role model for working hard and staying cool.
5- Once/Now/After/Soon series by Morris Gleitzman
My older cherub and I started a mini book club with this series. It was her first intro to fiction about the holocaust, and of course was horrifying, evocative and really quite difficult to read and explain in terms of the subject matter. Morris Gleitzman does such a beautiful job of conveying something so horrific and incomprehensible via characters and language that connects to a young (and old- aka me) audience.
6- The 4-Hour Work Week by Timothy Ferriss
This is one of those business bibles that is artfully included in almost every 'take a tour of my office' instagram post, positioned in a jaunty angle next to a fiddle-leaf frigging fig or some such greenery. Honestly, I didn't feel like I could call myself a woman in biz (#girlboss! #eww) without reading it. There's some really good, practical, commonsense and easy to apply practices that Ferriss recommends. Do I now have a 4 hour work week whilst raking in the cash Scrooge Mc-Duck style? No, but I have limited checking my email to three times a day, so that's a win.
7- A Man Called Ove by Fredrik Backman
It seems the older I get, the more I connect with cantankerous old farts. Ironic, really. I hinted on Instagram that this one might in fact make my top 10 reads for the year, and look, here it is.  It's funny and slightly heartbreaking, and the writing is really beautiful.
8- Life in Half a Second by Matthew Micalewicz
This is a business-ish book about goal setting, with nothing particularly groundbreaking or new, but one which I found really well-written and which gave me a boost of motivation, hence it's inclusion in my top 10, because I'm really short on good biz books in this year's reading list AKA this is no War and Peace but I know people will be reading looking for a biz book recommendation or two. That said, yes, it got me fired up, so it has earned it's place on this list. OK? Sheesh!
9- Black Rock White City by AS Patric
I really liked this novel- it's set in Sandringham in Melbourne's bayside, and I recognised so many landmarks. The language is clean and sparse and so bloody evocative. It has a real sense of malevolence and creepy drama that was unsettling and so, so good.
10- Second Half First by Drusilla Modjeska
I love Drusilla's writing, and when I think about who I want to be when I grow up, it's a close tie between her and Helen Garner. Some parts of this book were pure writing perfection, others were a bit plodding, with not the quite same of oh-my-freaking-god-this-is-incredible-ness of Poppy and The Orchard, but I did love, love, love it and highly recommend.
That's it- my favourite books of the 60 I've read, as of today, 15 December 2017. I'd love your thoughts, your recommendations, your reactions.
Happy reading!
[gravityform id="1″ title="true" description="true"]