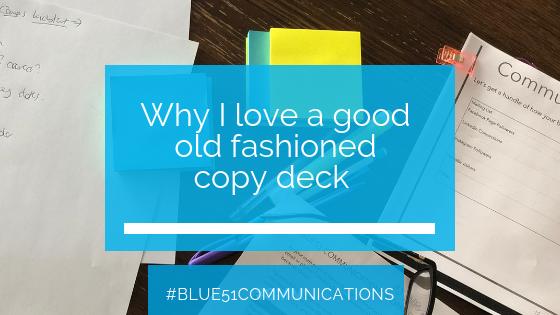 Have you ever worked with a copy deck? I do, all the time, and haven't really thought much about it as a process. It's just what I do. Recently, I handed over a writing project to a client and her response was less about the content (it was fantastic, naturally 😉 ) but she really, really liked the structure of how I presented her project- ie the copy deck. She'd never encountered the structure before, which initially I found surprising. When I thought about it, however, it made perfect sense. Why should she be familiar with a process specific to my profession, any more than I should be familiar with one of hers?
The first time I encountered a copy deck was when working on a MASSIVE writing project almost 20 years ago now (fark… how did that happen? Did I join the corporate sector at 6 years of age?) and the Director of the Corporate Communications Unit implemented their use as a non-negotiable. Control freak moi fell in love with them. Basically, it's a template or a structure to keep every person involved in a project absolutely clear on its end structure, everyone from graphic designer, to writer, to developer and everyone in between. They're a tool that most agencies use, and one that I continue to use today for all projects, from big, multi-page and multifaceted websites and even the smallest such as proposed SM captions and email campaigns. 
They're slightly different for each project, but basically hold all the necessary information on one simple document.
My copy decks always include:
Then, depending on the project, I have a variation of the following:
Header or Subject Line

 

(Page header for websites)
Intro copy
Body copy- within the body there may be elements that need to be bolded or highlighted which I label
Call to Action copy
SEO/Keywords (where appropriate)
Some writers put notes/commentary to their clients and colleagues within the copy, but I personally find that really distracting and disruptive to the flow. Rather than clog up the copy deck with my scintillating bits and bobs, I use the comments feature. This means my explanations of word choices, my suggestions for backlinks and my questions to the client about specifics within the copy are included but don't take away from the sheer brilliance of my words. Ahem…
Clients love copy decks because it is easy for them to visualise how the end project will look, read and flow, and it's an easy copy and paste for them to use the copy for projects they can implement themselves. Colleagues (designers and developers) love them because there is clarity about the project, and what goes where. 
Tell me, do you love yourself a good structure? Or are you more of a fly-by-the-seat-of-your-pantster?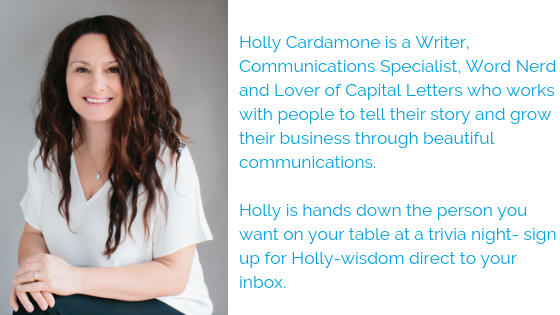 [gravityform id="1″ title="true" description="true"]
This is a post in my Writing for Business blog series. Each month, I share insights, hints and tips from my writing bag of tricks gained after almost twenty years of experience (oh Gawd) and my two Masters. I'll show you how to rock writing a range of products, tactics to online communications glory and how to use communications and PR to solve your business marketing problems.  If there's something specific you'd like to know, please shoot me an email or give me a buzz, and I'll do my best to help, or address it in an upcoming blog post or on my social media platforms.