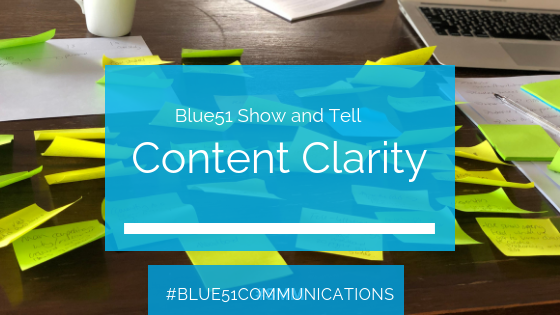 So many ideas; so little time! Blogging is such a fantastic way to tell your story and grow your business. Like any communications tactic, blogging and content marketing is most effective when delivered within a strategy, and not just for the sake of it. 
Today's Blue51 Show and Tell is an overview of working with a business who needed to take control over their content to share strategically and effectively. 
The project:
A Content Blast with Julie Cliff, Professional Organiser at Space and Time. 
The client:
Space and Time provides help for professional working mums who need to find more time, are drowning in clutter or simply need help getting their time and their space organised.
The client's target audience:
Space and Time works with professional working mums who may be struggling with overwhelm as they juggle all the pressing demands in their lives. 
The approach:
Julie from Space and Time is a beautiful writer and enjoys the process. However, she found she her writing process was quite sporadic and unstructured- which for a professional organiser, wasn't a great feeling! Julie had a ton of ideas but they felt a bit fractured and she didn't have a strong sense of how to evaluate an idea in the context of her audience.
Enter my Content Blast!
I sent Julie my client questionnaire to complete, and then Julie and I got cracking on creating a content plan that would put a sparkle in her eye, a spring in her step and, most importantly, a ton of clients in her work schedule. We worked together over the course of a massive three hour session fuelled by carbs and coffee and accompanied by approximately 50,924 post it notes.  We started our session together with a discussion of Julie's business and communications goals, as well as the ins and outs of her target audience, using her questionnaire as our foundation. The next part of our session was generating ideas. No idea was too silly (actually, a few were, weren't they, Julie!). Then we got stuck in curating the ideas and as we did so, they fell into a natural structure of four themes which became her content pillars. Boom!
Julie wanted to blog weekly as it is something she enjoys, but was also in a situation where it was taking her far too long to actually draft her blog posts. I shared an outlining tactic with Julie that I use to write my content that Julie now uses to write a blog post in less than an hour. 
The results:
At the end of our session together, Julie had a content plan against four pillars with just under 60 potential blog posts. Her content now goes out to her audience strategically and is aligned to her broader business goals. She has a clear understanding and a structure to follow which provides the what, how, when and why for sharing her insights. Her content writing is now a joy, not a source of strength, which makes me one very happy Word Nerd. 
Tell me:
do you have a sneaky suspicion that that you're not expressing yourself the way you'd like to in your content marketing, and thus not selling your business effectively? Is writing your blog a source of constant blah? Want a guiding hand and some fresh, practical ideas for your content? Yes, yes and hell yes? Please get in touch– I'd love to help out.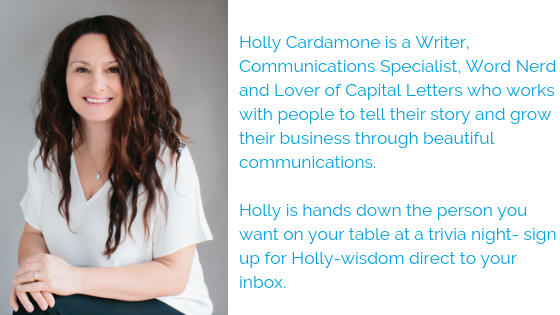 Psst- need some content ideas?
[gravityform id="8″ title="true" description="true"]
This is a post in my Blue51 Show and Tell blog series. Each month, I share some of the projects I'm working on for my fabulous clients. I love sharing both the work we're producing, as well as the amazing results they're achieving in their businesses. There's more unabashed bragging on my Facebook and Instagram feeds. If there's something specific you'd like to know, please shoot me an email or give me a buzz, and I'll do my best to help.