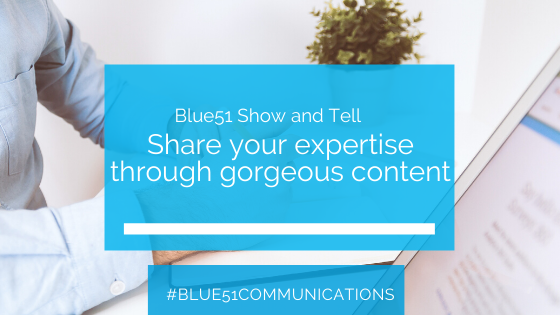 It's no secret that I love content marketing. The interplay between message and expertise and experience, when wielded with thoughtfulness, strategy and care, is a powerful connector.  The goal with any content strategy is to deliver messages that an audience, specifically a potential client, will resonate with and relate to as well as entertain, inform and educate. Throw in the means to tell a story, and I'm one happy Word Nerd. 
Today's Blue51 Show and Tell is an overview of working with a business who needed to take control over their content to share strategically and effectively. Enter my Content Blast! 
The project:
A Content Blast with Alana Bennett, Human Experience Fanatic and Coach at Connected Experience. 
The client:
Connected Experience is a consultancy that works with organisations to provide their people with a workplace that brings out their best. Connected Experience's mission is to truly connect humans to organisations so both employees and organisations thrive.
The client's target audience:
Connected Experience works primarily with leaders in small businesses and start ups. Specifically, they work with businesses that are truly committed to the experience agenda and "want" to do things differently. 
The approach:
Alana from Connected Experience is a beautiful writer and loves the process and act of writing. Prior to launching Connected Experience, Alana wrote a piece on LinkedIn that had a phenomenal response.  She's highly aware of the power of story to connect, and was keen to make use of her wonderful writing skills and impart her skills, experience and expertise through content. However, whilst she had ideas upon ideas, she felt quite overwhelmed with the opportunities they presented, and wanted some support to create a structure that was meaningful and aligned to her broader goals. Hello, Content Blast! 
Over three hours, Alana and I chatted, laughed, cried (good tears!) as we explored all the different facets of human experience. The three hour conversation translated into a 14 page Content Plan, with enough content ideas (structured into pillars, my favourite) to keep her blogging for the next two or three years. Best of all? Each and every content idea, which could be either a long form blog or video or short form captions, are completely aligned to her business goals, message, values and branding. 
The results:
Alana and her team now have a content plan that's strategic, helpful and will be fun to roll out. They have a clear understanding and a structure to follow which provides the what, how, when and why for sharing their insights.
Tell me, is creating your content, or even the ideas for your content, a source of constant blah?
Want a guiding hand and some fresh, practical ideas for your content? Yes, yes and hell yes? Please get in touch– I'd love to help out.
This is a post in my Blue51 Show and Tell blog series. Each month, I share some of the projects I'm working on for my fabulous clients. I love sharing both the work we're producing, as well as the amazing results they're achieving in their businesses. 
There's more unabashed bragging on my Facebook and Instagram feeds. If there's something specific you'd like to know, please shoot me an email or give me a buzz, and I'll do my best to help.