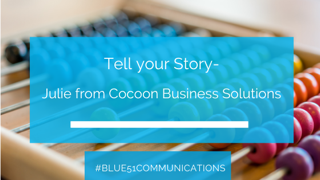 It's my favourite time in my blog schedule, when I shine a light on my incredible clients by way of my The Proust Questionnaire feature. Today we have fabulous Julie Doyle from Cocoon Business Solutions.
The Proust Questionnaire by Julie Doyle
What is your idea of perfect happiness?
Walks in sunshine or a stand up comedian who makes me laugh … I cant decide between the two.
What is your greatest extravagance?
Books- real, paper books.
Which words or phrases do you most overuse?
Ummmm      
Sweet    
Cool
What do you consider your greatest achievement?
Raising my son as a single parent and he's lived to tell the tale  …. or creating a startup in Canada and turning over a mill in the first year…
What is your most treasured possession?
My son… but he would say my dog!
What is your most marked characteristic?
My laughter in full flight
Who is your hero of fiction?
Atticus Finch
Who are your heroes in real life?
My Mum, my middle sister, my TWs, Greta Thunberg, Jessica Watson, Malala Yousafzai, Ruth Bader Ginsburg, Emma Gonzalez, Gloria Steinem, Layne Beachley,Yassmin Abdel Magied, Sam Kerr,Natasha Stott Despoja, Gail Kelly … ok I'll stop now…
What is your story?
My name is Julie Doyle and I am a Business Consultant and Bookkeeper. I have been a Policewoman and a Teacher in past lives, so I guess I just like helping people and businesses get up and succeed.
What is your motto?
I want to help you make it work.
Find out more about Julie and her incredible work here. Julie has just launched Survive to Thrive, a business planning course that will take businesses from meh to woah- in all the good ways. I'm in Julie's inaugural round, and it's such a gift to take the time and space to deep dive into my business, and of course, Julie is so knowledgeable and informative that it's simply a joy (albeit with a thinking resting face) to learn from Julie. 
I love shining the spotlight on some of my clients and colleagues. If you'd like to know more about my work, or would like the full 35 questions from the Questionnaire, please shoot me an email or give me a buzz, and I'll respond in a jiffy.